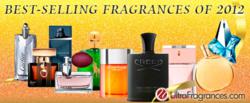 Along with this year's exciting new releases and flankers that made it to the list are some of everybody's favorite classic scents that have withstood the test of time.
San Jose, CA (PRWEB) December 28, 2012
Now that the year is finally coming to an end, many fragrance enthusiasts are already interested to know which among the great perfumes and colognes launched by top perfume houses like Calvin Klein, Thierry Mugler, Ralph Lauren, Hermes and Cartier have sold well this year. For this reason, Ultra Fragrances, a premier online shopping destination for designer fragrances and beauty products, today published an official list of the best-selling fragrances for men and women for 2012.
"We came up with a list of our best-selling fragrances of 2012 to assist last-minute shoppers find the hottest and most popular perfumes and colognes that will surely help them wrap up the gift-giving season with a bang," said Tammy Huynh, CEO of Ultra Fragrances. "Our best-selling fragrances of 2012 list will also help shoppers who are looking to discover great scents that are currently trending in the perfume world."
Read below for details on Ultra Fragrances' 10 best-selling list of fragrances for men and women this year in no particular order. Along with this year's exciting new releases and flankers that made it to the list are some of everybody's favorite classic scents that have withstood the test of time.
ANGEL BY THIERRY MUGLER ($83.90) – The gourmand fragrance category has never been the same with the launch of Angel by Thierry Mugler in 1992. This one-of-a-kind perfume for women created by perfumers Olivier Cresp and Yves de Chirin opens with chocolate nuances that are good enough to eat. It features a sugary-fruity sweet notes of honey, red berries, apricot, plum and honey made substantial by the herbaceousness of patchouli and milky characteristics of caramel at the base.
L'AMBRE DES MERVEILLES BY HERMES ($148.90) – This year's flanker to Hermes' signature fragrance, Eau des Merveilles, is named L'Ambre des Merveilles and is dubbed as the unfathomable interpretation to the original fragrance. This gourmand-oriental fragrance for both men and women opens with a distinct amber aroma extracted from labdanum wrapped around some bittersweet citrus notes. The trail it leaves is musky and vanillic from the notes of patchouli and vanilla at the base.
GOLD ROSE EDITION BY MICHAEL KORS ($96.90) – Gold Rose Edition by Michael Kors imitates the contemporary feminine spirit with a romantic edge. This floral woody flanker to Michal Kors' Michael Gold launched in 2012 features a bouquet of passionate florals made up of lily-of-the-valley, peony, rose, gardenia, tuberose, champaca and water lily warmed by woody nuances at the base.
GUCCI BY GUCCI ($71.90) – Gucci by Gucci perfume for women is a statement-making perfume created by perfumer Ilias Ermenidis. Launched in 2007, this chypre fragrance evokes a contemporary image of a woman who's got a natural flair for showing her femininity with class and sophistication. It blends resinous and aromatic notes of Tiare flower, Pear, Guava, Honey, Patchouli and Musk that always comes out splendid and luxurious to wear.
PRADA TENDRE ($95.90) – Prada Tendre showcases refinement and elegance from start to finish. Created by Carlos Benaim and Clement Gavarry in 2006, this concoction opens with spiky citrus accords that embrace its aromatic-floral heart made up of Indian jasmine, cardamom, tea leaves and Haitian vetiver resting on a woodsy bed of sandalwood and patchouli that disciplines the sharp opening.
POLO BY RALPH LAUREN ($77.90) – Ralph Lauren's design house created its first fragrance in 1978 with a cologne for men they simply named Polo. Created by perfumer by Carlos Benaim is a green-woody fragrance that features invigorating spices and leathery characteristics in the fragrance composition. It has a grassy opening made from thyme, Artemisia and basil seasoned with coriander and cumin. The heart and base are filled with woodsy and leather notes that leaves a smokey trail.
ENCOUNTER BY CALVIN KLEIN ($59.90) – Calvin Klein's oriental-woody fragrance of 2012 is described as "unapologetically masculine." Created by Firmenich perfumers Pierre Negrin and Honorine Blanc, Encounter opens with freshly peeled cardamom and mandarin fruits drenched in rum. The heart combines floral and woodsy notes of warm and cool characteristics to meld with the earthiness of oud, musk and atlas cedars in the base.
DÉCLARATION D'UN SOIR BY CARTIER ($98.90) – Cartier's powerhouse cologne for men, Declaration, launched a breakthrough interpretation this year with Déclaration d'un Soir. This spicy-aromatic cologne for men is said to have created to "drive men to speak their minds." It opens with a mild blast of spicy notes embodies by black peppercorns and cardamom moistened by a tingling citrus character. The heart is florally fresh with a gourmand touch from rose and nutmeg. All of the notes rest on a comforting cot of sandalwood leaving a woodsy and partly powdery trail.
CLINIQUE HAPPY FOR MEN ($60.90) – Created in line with its female predecessor, Clinique Happy For Men is a fresh-aromatic cologne for men inspired by a lush citrus garden sparkling under the sun. It's a scent that encourages to enjoy the simple pleasures of life. The opening is filled with green accords bathing in citric juices and sea water nuances. The floral heart features jasmine, freesia, rose and lily-of-the-valley. It leaves a woodsy dry down from the richness of cedar, musk and cypress notes.
GREEN IRISH TWEED BY CREED ($146.90) – The Paris based luxury fragrance company, Creed, created one of the perfume industry's most sought-after fougere cologne for men in 1985 with Green Irish Tweed. It features the invigorating freshness of verbena and grassy aromas of violet leaves tamed by the richness and woodsy quality of ambergris and sandalwood in the dry down.
About Ultra Fragrances:
Ultra Fragrances is where luxury meets affordability. It is a one stop online destination for carefully selected, highly-rated and top-selling beauty must-haves available at affordable prices. They carry the largest and widest inventory of designer fragrances, makeup, hair and skin care products since 2005. Among the vast selection of luxurious brands they offer are Gucci, Dolce Gabbana, Cartier, Creed, Donna Karan, Calvin Klein, La Prairie, Juicy Couture, Burberry, Giorgio Armani, Bliss, Philosophy, Estee Lauder, Tom Ford, Guerlain, Zirh, Aramis, Lacoste, Sisley, theBalm and so much more. Ultra Fragrance offers secure and hassle-free shopping experience which guarantees fast and reliable shipping of orders right at the doorstep worldwide. Visit their website for the latest trends and most-talked about beauty finds at http://www.ultrafragrances.com.