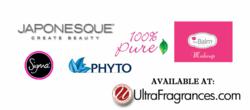 Strengthening their stance as a leading beauty retailer online, Ultra Fragrances now carries an assortment of innovative and pioneering new products from the beauty industry's cult favorite brands...
San Jose, CA (PRWEB) February 12, 2013
Ultra Fragrances, a premiere one-stop shop for designer perfumes and beauty products today announced the arrival and availability of the hottest and most-anticipated beauty must-haves to embrace the colors of Spring 2013.
According to Tammy Hyunh, CEO of Ultra Fragrances, they are providing customers the easiest and the most convenient way of purchasing some of the most anticipated skincare, hair care and makeup products of the year. Strengthening their stance as a leading beauty retailer online, Ultra Fragrances now carries an assortment of innovative and pioneering new products from the beauty industry's cult favorite brands like Sigma Beauty, theBalm, Japonesque, Missha, 100% Pure and Phyto to help you start building up your beauty stash this year.
SIGMA BEAUTY – Known for their award-winning makeup brushes, Sigma Beauty crossed new boundaries by venturing into the cosmetics category lately. With the success of the of the Dare, Flare, Bare and Paris eye shadow palettes they launched last year, the brand continues to dive into the makeup world by releasing Sigma Individual Eye Shadows Powders, Sigma Single Eye Shadow Bases, Sigma Brow Gels, Sigma Brow Highlighters, Sigma Brow Pencils and Sigma Brow Powder Duos.
JAPONESQUE – For over 20 years, Japonesque has been creating the most distinctive and innovative cosmetic brushes in the beauty industry. The brand's mission is to develop beauty tools that will help makeup artists, beauty professionals and beauty enthusiasts hone their makeup artistry with top-of-the-line beauty tools and accessories. . Some of their products that are currently getting receiving a lot of hype are the Japonesque precision lash Curler, Japonesque Train Cases and their iconic Japonesque Makeup Brush Collection.
THEBALM – Popular for its attention-grabbing, vintage inspired makeup products, theBalm was established with ''beauty in five minutes'' philosophy by Marissa Shipmanstraight from the kitchen of her San Francisco home. The brand has a myriad of makeup and skincare products being sold in over 46 countries worldwide and has just launched new products to kick start the year which includes theBalm Meet Matt(e) Nude eyeshadow palette, theBalm Put A Lid On It eyeshadow primer and theBalm En Root hair care line.
MISSHA – The Korean cosmetics brand responsible for creating one of the best B.B. creams around, Missha has taken the US shores by storm. Their cult favorite B.B. cream products like the Missha M Perfect Cover BB Cream SPF 42, Missha M Signature Real Complete BB Cream SPF 25, Missha M Vita BB Cream (Matte) SPF 20 even out complexions effectively while removing hyper pigmentation and minor redness with continuous use. The brand also carries hundreds of other high quality makeup products and beauty accessories.
100% PURE – using all natural, unrefined and organic ingredients, 100% Pure has swiftly gained an enviable reputation for being one of the most environmentally responsible cosmetic companies in the world. 100% Pure believes that most cosmetic products today have toxic chemicals that may cause cancer, tumors and many other illnesses which is why the brand holds no synthetic chemicals, parabens, sulfates, artificial fragrances, artificial dyes and detergents in all their products.
PHYTO – The extensive and specially formulated hair care products of Phyto are infused with nature's pure botanical ingredients that treats dry, itchy, flaky and thinning hair the gentlest way possible. The brand uses high concentrations of essential oils which cleanses and disinfects the scalp in order to regulate sebum production and rejuvenate hair back to life.
About Ultra Fragrances:
Ultra Fragrances is where luxury meets affordability. It is a one stop online destination for highly raved and best-selling beauty must-haves available at affordable prices. Since 2005, they have been offering unique and extensive inventory of designer fragrances, cosmetics, and hair and skin care products. When you shop at Ultra Fragrances, you can save from 30% up to 80% off retail prices. They offer the best prices around and guarantee to match the price of any competitor that offers a lower price. UltraFragrances.com gives shoppers the luxury of shopping at the comfort of their homes since they conveniently ship their products domestically and internationally to over 40 countries worldwide. Visit their website for the latest trends in beauty, fragrances and more at http://www.ultrafragrances.com.