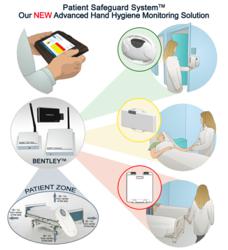 The primary focus of the Patient Safeguard System is to protect the patient at all times.
(PRWEB) April 04, 2013
The Patient Safeguard System™ or PSS, is a complete and comprehensive hand hygiene system designed specifically for monitoring the hand hygiene of health care workers around the patient bed. PSS was designed to notify caregivers of their hand hygiene status by cautioning them from interacting with their patients without performing the recommended hand hygiene process.
Charles C. Johnston, CEO of UltraClenz, commented that "Designing a system to meet the many different requirements of a hospital and the World Health Organization's (WHO) "Five Moments for Hand Hygiene" was a challenge that we were willing to undertake.  The primary focus of the Patient Safeguard System is to protect the patient at all times.  The market demand for a system that addressed the increasing concern of Hospital Acquired Infections (HAI) allowed for UltraClenz to work with a very prestigious organization such as HCA.  The feedback from the health care workers at Palms West Hospital assisted us in perfecting our system and allowed us to fully deploy it within their facility."
"Our patients' safety is and will always be at the forefront of all we do," said Madeline Nava, Palms West Hospital's Chief Operating Officer, "As the first hospital in the United States to roll out a fully integrated hand hygiene program, we hope our patients and their families see the great strides Palms West is making to stay on top of the latest technology in ensuring this."
UltraClenz has always maintained an engineering focus on designing simple and cost effective solutions while fulfilling significant unmet customer needs in the global market. PSS was designed from the ground up using UltraClenz's proprietary patented communication technology, Bentley™, thus allowing for ease of installation and protection of information.
About UltraClenz LLC
For nearly 20 years, UltraClenz has been developing and marketing products designed to increase the awareness of hand hygiene in various arenas such as: Hospitality, Health Care, Food and Beverage, Processing Plants and Infection Prevention Laboratories.
Our mission is to globally provide tools to increase hand hygiene awareness, and decrease the spread of infectious diseases and food-borne illnesses while providing a cost competitive and reliable product base.