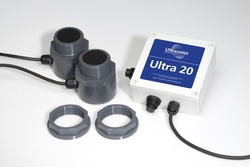 Power usage is absolutely critical. As the foremost electronic antifouling solution, Ultrasonic Antifouling's Ultra System has been specifically designed to use less power.
(PRWEB) September 29, 2010
World-class Ultrasonic Antifouling Ltd has launched a new checklist to help boat owners choose the right electronic antifouling system and avoid the pitfalls that can result from buying inferior equipment.
Electronic antifouling systems use sound waves to keep boat hulls clear of algae and barnacles – saving fuel and maintaining hull speeds – but not every antifouling system is the same.
Some cheaper systems operate at frequencies that can interfere with other marine electronics systems on a boat. Others can drain too much power – running down batteries needed to operate vital automatic bilge pumps and boat security systems.
Ultrasonic Antifouling's Ultra System, the world's leading brand of sonic antifouling systems, is the choice of governments and marine professionals around the globe because of its superior technology, design and construction – avoiding the problems that can be associated with some other systems.
Experts at Ultrasonic Antifouling Ltd have compiled the following checklist for boat owners keen to use environmentally friendly green antifouling to cut their fuel costs and protect their hulls:

Power – how much energy does the system use? Will it drain power and put other vital equipment at risk?
Frequency – does the system use the correct frequency range? Is it programmed to sweep through multiple frequencies using many of the very important harmonics? Does it deliberately exclude certain frequencies so as not to interfere with other electronics on board?
Waterproofing – will the system's components be robust enough to withstand the tough marine environment that they will endure for years to come?
Warranty – how long is it? Does it cover installation by the boat owner?
Cavitation – does the system operate using cavitational frequencies, potentially resulting in vibration?
Functionality – has the system been programmed to ensure maximum performance? How heavy is it? How much space will it take up? How long are the cables? How easy is it to install?
Power – this is a critical consideration. Some systems can use as much as 50 per cent more power than the proven Ultrasonic Antifouling Ultra System.
Moored boats not connected to shore power rely on their batteries. Some energy-hungry antifouling systems can drain the batteries too quickly. Not only will they stop working when the power runs out, but this can also impact on other important marine electronics systems on the boat.
Ultrasonic Antifouling's Ultra System not only uses less power – it also offers energy-saving options such as solar power and automatic switching between batteries and shore power.
Frequency – some antifouling systems can interfere with other marine electronics. Ultrasonic Antifouling's Ultra System operates using a carefully considered 20kHz-140kHz swept frequency range, avoiding any interference with other ships' electronics and a long way short of the 200kHz frequency typically used by other electronics on the boat.
Some sonic antifouling systems operate using a very limited range of frequencies. This limits their effectiveness in generating the necessary range of sound waves needed to deter algae and barnacles from clinging to the hull.
But Ultrasonic Antifouling's Ultra System works better than other boat antifouling systems because it sweeps across a huge range of frequencies to keep the hull and stern gear clear of unwanted algae and barnacle growth.
Ultrasonic Antifouling Director David Sothcott said: "Power usage is absolutely critical. As the foremost electronic antifouling solution, Ultrasonic Antifouling's Ultra System has been specifically designed to use less power.
"Operating frequencies are also vitally important for two reasons. One is to ensure maximum effectiveness without disrupting a vessel's other electronics systems, but the foremost reason is that the frequencies have to match those of the unicellular organisms (algae) that they are designed to destroy.
"Various government agencies, armed forces and other marine professionals around the world recognise this and fit Ultrasonic Antifouling's Ultra System to their vessels in preference to other systems."
Waterproofing – some cheaper systems' ultrasonic antifoul transducers are simply not tough enough to withstand the punishment they will endure in the bilges.
Ultrasonic Antifouling units are rated to the IP67 (control unit) and IP68 (transducers) standards – compared with some other systems which are rated to the lesser IP65 standard:

IP67 offers protection against water penetration to a depth of one metre
IP68 equipment is hermetically sealed against water ingress for depths beyond one metre
IP65 offers protection only against jets of water, rather than total immersion.
"When buying an electronic antifouling system, it is important to check how watertight it is – not just the transducers that emit the sound waves but also the cables. Cheap cables are a false economy if they leak or are not oil, water and fire resistant."
Warranty – some systems that offer lesser protection can consequently offer only a 12-month warranty, compared with the two-year warranties that cover Ultrasonic Antifouling's IP67- and IP68-rated equipment which is all produced and manufactured in Europe.
Also, Ultrasonic Antifouling's Ultra System is so easy to install – requiring no through-hull drilling – that its warranty is still valid if installed according to instructions by the boat owner. A network of approved dealers around the world provides expert installation and support services.
Functionality – some antifouling systems are not programmable, reducing their effectiveness. Ultrasonic Antifouling equipment can be and has been programmed, ensuring maximum performance in the vessel in whichever waters she operates.
This protects hulls, cuts fuel costs and reduces the need for the costly lift-outs usually associated with antifouling removal.
Earlier this year Motor Boat & Yachting magazine named Ultrasonic Antifouling's Ultra System as Product of the Month with a five-star MBY rating in its antifouling review.
For more information about antifouling boats, please contact Ultrasonic Antifouling, +44 (0)1202 606185.
Note to Editors
Ultrasonic Antifouling is a revolutionary way to protect a boat from fouling using high frequency, low power sound waves to destroy algae and prevent weed and barnacle growth. The system has been carefully researched and developed and is now being used with great success all over the world.
For further information, please contact:
Ultrasonic Antifouling Ltd
Arena Business Centre
Holyrood Close
Poole
BH17 7FJ
United Kingdom
Telephone: +44 (0)1202 606185.
For further press information, please contact:
Saltwater Communications Ltd
22 Strand Street
Poole
Dorset
BH15 1SB
United Kingdom
Telephone: +44 (0)1202 669244
###