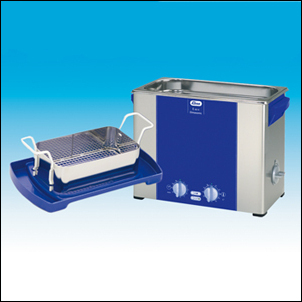 South Orange, NJ (PRWEB) January 24, 2007
Today Tovatech LLC announces the Elmasonic E ultrasonic cleaner, a new product line designed for cleaning metal, glass, electronics and plastic parts. Unlike other table top ultrasonic cleaners, Elmasonic E ultrasonic cleaning equipment has true digital Sweep technology, affording unprecedented thoroughness and reproducibility.
An ultrasonic parts washer operates by producing tiny vacuum filled bubbles that implode releasing high energy in a process known as cavitation. Normal mode ultrasonics produces a stabilized frequency, resulting in a standing wave with periodic nodes where no cavitation, hence no cleaning occurs. In Sweep mode, the frequency is shifted continuously to ensure that cavitation occurs uniformly throughout the tank. Most ultrasonic cleaners use analog generators to simulate Sweep mode by oscillating the electrical resistance to alter the frequency. These analog systems are factory-set to an average bath load. In actual use the tank fill and load vary, resulting in an inconsistent sweep effect. Variations in the sweep performance lead in turn to inconsistent cleaning.
The Elmasonic E industrial ultrasonic cleaners utilize digital Sweep function developed in the Elma acoustic engineering laboratories. The microprocessor-controlled generator sends out a signal and self-adjusts to the actual fill and load in the bath. Only digital Sweep guarantees evenly distributed cleaning power throughout the bath for all loads, both large and small. Cleaning of glass, metal, electronics or plastic surfaces is optimized with true digital Sweep technology.
All Elmasonic E units have ceramic heating elements to assist the cleaning process. A simple turning knob allows temperature settings between 30° and 80°C. The heating elements are absolutely dry-run proof. The cleaning period can be set from 5 to 30 minutes, or run continuously. The units have an automatic safety shut-off after 12 hours.
Elmasonic E ultrasonic cleaner models include the E15H, E30H, E60H, E70H, E100H, E120H, E180H and E300H. These 8 different sizes vary from 1.75 liter to 28 liters. Numerous practical and well-designed accessories are available for all sizes. Accessories include stainless steel holder baskets with plastic-coated handles to minimize noise, a cooling coil to maintain a low bath temperature when needed, and various supports for flasks and beakers. Tovatech distributes the full Elma ultrasonic cleaning equipment product line which includes industrial consoles with up to 300 liter capacity.
For more information about the Elmasonic E ultrasonic cleaner, visit the Tovatech laboratory equipment website.
About Elma GmbH & Co. KG
The name Elma has represented quality and know-how in ultrasonic technology for 50 years. Elma products are designed and manufactured in Singen, Germany to the highest standards of excellence. The Elma ultrasonic cleaner product range is the largest in the world, from small table top units to fully automated industrial cleaning lines. Elma's manufacturing facilities are certified according to DIN ISO EN 9001.
About Tovatech LLC
Information about Tovatech is available on the Tovatech website. Tovatech LLC is a distributor of laboratory equipment to the US, Canada, and Mexico. Tovatech is staffed entirely by scientists who seek to aid other scientists in selecting the right laboratory instruments for their work.
# # #