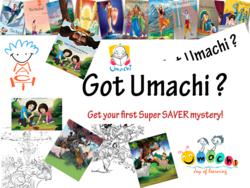 A novel concept and amazing quality! I have not seen anything even remotely like this in the market.

These are the favorite bed-time stories for my 3-year old.

Look forward to many more such books!
Plano, TX (PRWEB) September 11, 2012
Parents looking for attractive picture eBooks based on Indian mythology or a gripping adventure book for their elementary school kid will find Umachi Books refreshing. (Image from the facebook fan page on the right.)
The Umachi picture book stories are about 24 pages which will just about hold a kid's attention. Currently there are 15 titles with stories that would make a good bed-time reading for parents with children.
The eBooks are available as PDF on Infibeam's website. Infibeam is the largest online book retailer in India. You may purchase the Kindle or iPad versions from Amazon or the iTunes store. Infibeam will carry the paperback versions as well in the near future.
Umachi Books is a brand of contemporary picture and chapter books for kids. The picture books focus on interesting stories from Indian mythology, supplemented by eye-catching images. These are meant to be for children between the ages of 3 and 7.
Got Umachi? Get your Umachi book today at Infibeam!