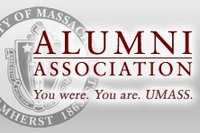 It's a great feeling to know that you're making a difference in someone's life, no matter how small or big it may be
Amherst, MA (Vocus) March 11, 2009
University of Massachusetts Amherst alumni and students find time to volunteer for a myriad of activities, and more often than not, play a leadership role, according to results of a recent poll taken by the UMass Amherst Alumni Association.
In a poll of 100 alumni and 100 students, over 85% of students and almost 90% of alumni polled said that they volunteer through a school, community or other organization-related activity.
When asked why they chose to use their time to participate in volunteer organizations and activities, primary reasons given were: to be part of something, to improve their community, to show support for a cause, and to "give back". Over 60% of those polled indicated they played a leadership role in their volunteer activities of choice.
When questioned regarding how they felt about their overall volunteer experience, 40% indicated that they felt like they "got back" more than they gave, and 42% stated that they had mixed experiences, but generally felt volunteer work was worthwhile and would continue.
Yasemin Aytaman, class of 2010, volunteers with both the Student Alumni Association (SAA) on the UMass Amherst campus, and with the Boltwood Project at the Northampton Hallmark Clinic for mentally and physically disabled children. "It's a great feeling to know that you're making a difference in someone's life, no matter how small or big it may be," she said.
This April, the UMass Amherst Alumni Association is holding its Second Annual National Community Service Months, where alumni participating in 35 regional Alumni Clubs in the U.S. work together on community service projects ranging from serving meals at Ronald McDonald House to Habit for Humanity homebuilding projects. Also in April, SAA students are participating in the annual Relay for Life, held in Amherst.
For more information, go to UMassAlumni.com.
The University of Massachusetts Amherst Alumni Association represents over 215,000 alumni around the globe, and provides programs and services to enlighten, strengthen and develop students, faculty, staff and alumni. For more information, go to http://www.UMassAlumni.com.
Media Contact:
Norma Heim
413-577-0312
# # #