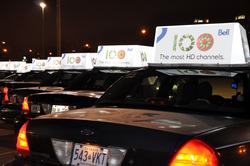 We will be offering 100 taxis in Toronto effective immediately with the additional 1,100 available in the near future
Toronto, Ontario (PRWEB) April 30, 2010
Umbrella Media Outdoor has added a very large fleet of taxis to its media portfolio.
The Calgary media company has secured more than 1,200 taxis in the city of Toronto for valuable ad space under its Taxi Media division. This includes taxi tops, wraps, rear window prints as well as interior posters.
"We will be offering 100 taxis in Toronto effective immediately with the additional 1,100 available in the near future," says Umbrella Media Outdoor CEO Shane Yawrenko. "Taxi cabs go everywhere, seven days a week and 18-24 hours a day – this means massive advertising exposure for our clients."
According to Yawrenko, these ads could have as many as 8,000 impressions each day and is a proven medium throughout the USA and Europe.
But even before they secured this large fleet of taxis, Umbrella Media Outdoor made itself the largest taxi advertising company in both Canada and Mexico. They continue to lead and innovate this market for its clients. Current campaigns include such recognizable corporations as the Western Canadian Lotto Corporation, McDonald's and Discount Car and Truck Rental.
"Umbrella Media specializes in unique out of home venues some of our other mediums include airplanes, in-window, shopping malls, buses and golf courses to attract a variety of clients," says David Rojek, vice-president of sales & marketing for Umbrella Media. "But the power of taxi advertising is a medium that we understand very well and we absolutely feel confident in doing."
In addition to the Canadian and Mexican markets, Umbrella Media is also looking at expanding its various mediums to markets in the Middle East – Saudi Arabia, Yemen, Jordan and the United Arab Emirates (UAE).
Just recently, Umbrella Media welcomed Kurt Tingey, former CFO of Clear Channel USA, to its advisory board, bringing years of valuable advertising and marketing experience to the media company.
Originally formed in 2005 in Edmonton, Alberta, Yawrenko formed CabAds. As the company evolved, CabAds eventually became Taxi Media – a division under Umbrella Media. In addition to Taxi Media, the company has since become the parent company of Golf Media, Airline Media, In-Window Media as well as Indoor Media.
For more information on Umbrella Media visit http://www.umbrellamediaoutdoor.com.
For additional information contact:
David Rojek
VP Marketing
Umbrella Media Outdoor
(403) 889-4884
###