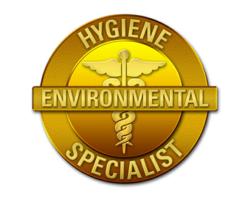 "Clearly, Environmental Services is the first line of defense in the battle against HAIs." George Clarke, CEO, UMF Corporation
Chicago, IL (PRWEB) September 22, 2011
Environmental Services Managers are encouraged to nominate the housekeeper of their choice for the second annual Hygiene Specialist™ Excellence award, which is sponsored by UMF Corporation, developer of the PerfectCLEAN® Infection Prevention System.
Nominations are welcome on the form provided at http://www.perfectclean.com or at UMF PerfectCLEAN®'s booth at AHE's 2011 Annual Conference & Marketplace, being held September 25-28 in Kissimmee, FL. Nominations may be submitted on or before Dec. 31, 2011, and should include information on how the nominee has demonstrated the highest professional standards and diligence in supporting infection prevention. The recipient will be announced on Jan. 15, 2012. The Hygiene Specialist™ Excellence award includes an all-expense-paid vacation for two to South Beach, FL, including airfare and accommodations.
When the hit movie, "Contagion," first came out, George Clarke, UMF CEO, immediately knew he might be interested in seeing Hollywood's take on the subject.
But what really got Clarke's attention was the last sentence of film critic Roger Ebert's review of the movie: "You might be surprised by how many hospital patients die because of viruses they didn't walk in with."
Clarke said, "Now, there's an idea for an even scarier sequel. And in this film, the unlikely heroes just might be found in housekeeping." It's with housekeeping, or Environmental Services (EVS), in mind that UMF Corporation created the Hygiene Specialist™ Excellence award.
"We want to help elevate the role of EVS within the hospital hierarchy and give them the respect they're due." Clarke said.
He said where the apocalyptical story in "Contagion" is make believe, ever year nearly 2 million healthcare-associated infections (HAIs) really do claim almost 100,000 lives. In hospitals, this includes newborns in high-risk nurseries and in well-baby nurseries, and adults and children in ICUs and adults and children outside of ICUs.
HAIs are infections that are acquired while a patient is receiving medical, surgical or rehabilitative services in a healthcare facility. Currently, the HAI that grabs all the headlines is Methicillin-resistant Staphylococcus aureus (MRSA), which is caused by a bacteria that has become resistant to the antibiotics commonly used to treat ordinary staph infections.
MRSA is but one. There are many others. And most of these kinds of infections are preventable. Hand washing, for example, comes to the minds of most as one of the easiest ways to protect ourselves from many infectious diseases – and it has become routine hospital protocol.
The sad fact is, according to Clarke, hospital management can audit and demand hand washing all it wants, but, astonishingly, compliance rates for hand washing in American hospitals are only around a totally unacceptable 40 percent.
"What's more, we've learned that without a clean patient room environment, hands will become quickly re-contaminated," Clarke said. "Infections are well adapted to survive in dust and on floors, bedrails, telephone, call buttons, curtains, stethoscopes, blood pressure cuffs and other surfaces."
"Clearly, housekeeping, or EVS, is the first line of defense in the battle against HAIs," Clarke said, adding that there's a little bit of irony here because for years, hospitals have downplayed EVS's role on this matter. "They're thought of as those guys in the basement, at the bottom step of hospital hierarchy," he said.
Fortunately, some medical centers have begun to realize that EVS is about more than just having a squeaky-clean, shiny hospital floor to make a positive impression on patients and visitors. "EVS is about patient care – at least it should be," he said.
For example, last year, over a six-month period, Chicago-based Roseland Community Hospital reduced to zero the rate of infection of a specific HAI in its surgical units. The hospital's EVS department played a significant role in the success of this effort, which included organization-wide training of all staff on cleaning and disinfection of equipment and environmental surface "hot spots."
This type of success in the battle against HAIs is very doable. Structured educational programs that focus on training, education and ongoing reinforcement of best practices create a safer patient environment. Moving away from old fashioned string mops and rags to the use of more advanced infection prevention tools like high performance textiles designed for infection prevention combined with hand-washing programs have shown to dramatically reduce HAIs in hospital settings.
Unfortunately, the staffing levels of many EVS departments are declining. This is happening as hospitals try to cut costs. Surprisingly, this is also happening as many hospitals expand their facilities and services.
"Whenever we hear about hospital layoffs, we also hear that patient care will not be compromised," Clarke said. "But if the cuts are coming from EVS – the first line of defense in fighting HAIs – it seems only logical that hospitals are exposing themselves – and their patients – to greater risk of HAI."
UMF Corporation develops high performance fibers and textiles including the PerfectCLEAN® Infection Prevention System for the healthcare, hospitality and pharmaceutical markets.
# # #