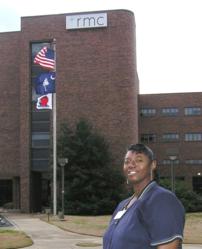 We want Environmental Services employees to be recognized for their critical role as the 'first line of defense' in reducing the risk of HAIs and ensuring a safe patient environment.
Chicago IL (PRWEB) February 27, 2012
Karren Keitt, a member of the Environmental Services (ES) team at the Regional Medical Center (RMC) in Orangeburg, SC, has been named this year's recipient of the Hygiene Specialist™ Excellence Award, which is sponsored by UMF Corporation, developer of the PerfectCLEAN® Environmental Hygiene System.
The award, in its second year, was established to acknowledge the invaluable contribution of ES, the first line of defense in providing a safe patient environment and reducing healthcare-associated infections (HAIs). ES managers nominate the housekeeper of their choice to receive the award.
"Karren always goes above and beyond – and always puts her patients and co-workers first," said RMC ES director Henry Miller in nominating Keitt for this year's award. "She knows the role she plays in preventing patient infections and that her work must be performed properly. Every area of our medical center wants Karren to be their ES worker and her scores for service have remained a perfect 100 percent. She is a blessing to RMC to RMC patients."
Keitt joined the RMC team as an ES tech in 2005, and several years ago she was appointed as a lead person in ES. She is a native of Brooklyn, NY. She and her husband, Jerry, reside in St. Matthews, SC. They have six children. When not working at RMC, she enjoys attending church services and activities, meeting new people, cleaning and traveling.
The Hygiene Specialist™ Excellence award includes an all-expense-paid vacation for two to South Beach, FL, including airfare and beachfront accommodations.
Commenting about the award, UMF Corporation CEO George Clarke said, "We want ES employees to be recognized for their critical role as the 'first line of defense' in reducing the risk of HAIs and ensuring a safe patient environment."
According to the Centers for Disease Control and Prevention (CDC), 1 out of every 20 hospitalized patients contract an infection during the course of receiving healthcare treatment for other conditions.
"These infections related to medical care can be devastating and even deadly," Clarke said. "Fortunately, medical centers like RMC are beginning to realize that ES is about more than just having a squeaky-clean, shiny hospital floor to make a positive impression on patients and visitors.
"Structured programs that focus on training, education and ongoing reinforcement of best practices create a safer patient environment," he said. "And the use of more advanced infection prevention tools – combined with hand-washing programs – can have a dramatic impact on reducing HAIs."
This year's Hygiene Specialist™ Excellence award comes as more hospitals are beginning to realize that environmental hygiene can play a significant role in improving patient satisfaction scores. This includes the Hospital Consumer Assessment of Healthcare Providers and Systems (HCAHPS) survey, which is a nationally standardized survey that captures patients' perspectives of their hospital care, including cleanliness of the hospital environment.
"At the end of the day, it's people like Karren Keitt who make the difference on many different levels – infection prevention, patient satisfaction and ultimately a hospital's bottom line," Clarke said. "We're pleased to have her as this year's recipient of the Hygiene Specialist™ Excellence Award."
About UMF Corporation
Innovators and specialists in environmental hygiene, UMF Corporation delivers advanced, patented antimicrobial technology with industry-leading PerfectCLEAN® products, education, training, motivation and support. The company, headquartered in the Chicago suburb of Skokie, IL, is the only U.S. company that designs, engineers and manufactures high-performance fibers and accessories to help its customers meet tough new challenges in public health and safety. UMF Corporation is the annual sponsor of the Hygiene Specialist™ Excellence award to acknowledge the invaluable contributions of ES.
For more information, visit http://www.perfectclean.com.
About the Regional Medical Center of Orangeburg & Calhoun Counties
The Regional Medical Center, in Orangeburg, S.C., is a 286-bed acute-care facility, employing more than 1,200 healthcare professionals. Serving Orangeburg and Calhoun counties and surrounding areas, RMC is accredited by The Joint Commission and offers a 24-hour emergency department and a full-range of high-quality medical services such as same day surgery, orthopaedics, obstetrics, cardiology and the latest in diagnostic imaging. RMC received the prestigious Thomson Reuters Healthcare Advantage Award in 2010 for clinical advancements in quality patient care.
###