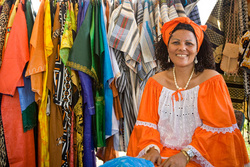 Portsmouth, VA (PRWEB) July 31, 2009
Umoja Festival links attendees from across the nation and the citizenry of Portsmouth to the Festival's theme of unity in the family, community, and nation. Umoja Festival is a superb example of Portsmouth's dedication and commitment to insuring an understanding of cultural diversity.
Umoja Festival officially begins at 5:15 p.m. Friday, September 18 at the nTelos Pavilion with a traditional African drum call, a ceremonial procession led by Portsmouth dignitaries and civic leaders, and the blessing of the elders.
Roger Brown, recently inducted into the National Football Foundation's College Football Hall of Fame, will be Grand Marshall of the parade.
The festival continues in downtown Portsmouth and at the nTelos Pavilion through Saturday and Sunday. Throughout the festival weekend, Portsmouth will resemble its sister city of Eldoret, Kenya.
National performers, The Heads of State and Jagged Edge, take the nTelos Wireless Pavilion stage at 7:30 p.m. on Saturday, September 19.
Local and regional entertainment include: Portsmouth's Own, Honey in the Rock, Carlton Baker, Back @ Back, Joe Tann , Second Chance, RAJAZZ, and the Tidewater Drive Band.
The festival will also host the 3rd Victory Walk sponsored by the Virginia Breast Cancer Foundation at 9 a.m. Saturday.
With more than 25,000 people expected to attend over three days, Umoja Festival is one of the largest events in Virginia celebrating African American heritage.
About Portsmouth, Virginia: A quaint, historic seaport city in southeastern Virginia, the City of Portsmouth http://www.VisitPortsVa.com is centrally located within the region referred to as South Hampton Roads. The Norfolk - Virginia Beach - Newport News Metropolitan Statistical Area (MSA) ranks as the 35th largest in the United States with a total population of more than 1.6* million.
###