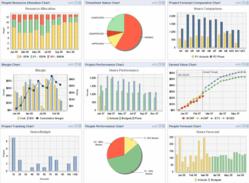 "Project managers, financial managers, and staff get the insight they need, when they need it, to manage government projects efficiently and in compliance." Fran Craig, Unanet CEO
Sterling, Virginia (Vocus/PRWEB) March 09, 2011
Unanet Technologies, a developer of services automation software that helps organizations manage people and projects for improved profitability, will sponsor and has been selected as one of only four partners to present at the Microsoft Government Contractors Summit on March 17, 2011 in Falls Church, VA.
This year's Microsoft Government Contractor Summit continues to build on the tradition of the 'not-to-be-missed' industry event by taking Government Contractors to the heart of what business transformation means to their business.
Unanet's solution provides initial opportunity planning and resource forecasting, engagement management, detailed budget planning and staff scheduling, time and expense capture, and real-time reporting. Microsoft Dynamics SL is a project and financial accounting solution specialized to help organizations obtain financial reporting and analysis, while helping increase efficiency, accuracy, and customer satisfaction
A natural fit to Unanet's extensive Professional Services Automation software, the integration with Microsoft Dynamics SL empowers organizations to view project profitability, revenue, expenses and financials in one place, giving management greater visibility into project and workforce performance. The integration ensures a single point of entry for data on projects and people with no duplication of effort, with automatic replication between Unanet and Microsoft Dynamics SL to ensure data integrity between the systems.
Fran Craig, Unanet CEO commented "With Unanet and Microsoft Dynamics, government contractors have a unique solution to meet the needs of stakeholders across the organization. "
To find out more about the Microsoft Government Contractor 2011 Summit and register, click here.
###