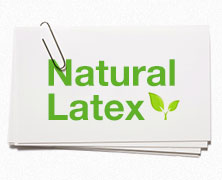 San Jose, CA (PRWEB) May 29, 2013
Accurate and trustworthy sources of information can be hard to come by in the mattress world. Consumers research latex beds in particular face a variety of unfamiliar terms as well conflicting and questionable claims. In their latest report, Consumer Mattress Reports looks at natural latex mattresses in depth to help clarify information for readers.
The article, "Unbiased Natural Latex Mattress Report", is styled as an introductory primer and guide to latex. Four segments address common questions of consumers on materials, manufacturing, pros and cons, and brands.
Consumer Mattress Reports starts by defining the terms which describe what the material is made of, including 100% natural, blended, and synthetic. Details about ingredients, retailer terminology, and debates about natural versus blended latex are discussed, though the majority of the article focuses solely on natural latex.
Next, the guide offers an overview of manufacturing processes from production to assembly. Talalay and Dunlop processes are briefly explained, with Talalay highlighted for consistency, durability, and greater customization. Consumer Mattress Reports then describes the makeup of latex beds, helpful for those unfamiliar with specialty mattress types.
Advantages of these types of beds highlighted in the article include no toxic chemicals or odors, environment and allergy-friendly, durability, resiliency, and the ability to customize or replace layers as needed (with some brands). In contrast, however, natural latex also proves somewhat expensive and difficult to find or try locally.
The final part of the report compares eight retailers of natural latex on type, certifications, price range, review scores, and return policies. Consumer Mattress Reports provides the information in chart form and offers a thorough analysis, comparing each retailer to deduce the best option. Based on their comparison, they arrive at the recommendation of 100% natural latex mattresses from Astrabeds.com, based on favorable reviews, pricing, certifications, and the all-Talalay design. In closing, the website offers that latex remains one of the highest rated mattress types and suggests that while researching and comparing consumers focus on factors like materials and retailer policies rather than subjective claims to limit confusion.
Consumer Mattress Reports is an online magazine specializing in all things to do with beds and sleep. The easy-to-read blog design offers an inviting format for readers, with well-researched, expert articles on mattress ratings and brands. In addition to reviews and comparisons, the website also covers the latest mattress news and offers helpful shopping information geared towards shoppers.