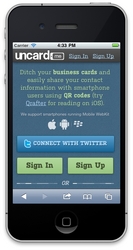 What we need is a way to share just our contact info, and nothing more. We looked, but we couldn't find that solution. So we decided to build it
Louisville, KY (PRWEB) March 10, 2011
Mission Data today announces the launch of the uncard.me web-based application, which allows any smartphone user to easily exchange contact information without committing to tracking them on social networks. The free-to-use website will let users decide how much or how little contact information to share by enabling them to create as many "uncards" as they want for different purposes. Uncards can be exchanged instantaneously with QR code-enabled smartphone users.
While planning for South by Southwest (SXSW) Interactive in Austin, Texas, one of the premiere networking events of the year, Mission Data senior architect, Ernie Miller and creative director Todd Budnikas discussed the problem of how people are not always interested in "following" or "friending" every new contact they meet.
"What we need is a way to share just our contact info, and nothing more. Without requiring us to carry stacks of business cards, or make goofy hand gestures with everyone we bump into, like we're back in college again," said Miller, "We looked, but we couldn't find that solution. So we decided to build it."
At SXSW, uncard.me users can have different uncards for each seminar attended, for example, to help keep track of contacts. uncard.me is not another app or social network, it's simply a fast way for people to connect, on the go, from any smartphone.
About Mission Data
Mission Data is a Louisville-based services company focusing on the strategy, design, development and management of Web solutions. Since its inception in 1996, the company has been at the forefront of the application of interactive strategies and Internet technologies in support of the needs of businesses.
With a reputation for top-tier expertise and delivery, Mission Data proudly provides services on a national basis to a broad range of businesses. The companies served are primarily growing and innovative small and medium sized enterprises. However, Mission Data consistently maintains a strategic partnering relationship and provides services to several Fortune 1000 companies.
# # #