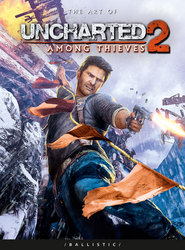 I couldn't be happier with the way The Art of UNCHARTED 2: Among Thieves turned out
(PRWEB) March 13, 2010
From concept art, to character studies, environment art, character modeling, game art, cinematics, motion-capture, animation, and effects, The Art of UNCHARTED 2: Among Thieves is the ultimate companion to the award-winning PlayStation®3 game.
The Art of UNCHARTED 2: Among Thieves not only gives you an insight into the creation of a blockbuster game level by level, but it also explores how a creative team like Naughty Dog approach their craft. From Co-President Evan Wells, through to Creative Director Amy Hennig, Co-Lead Game Designer Richard Lemarchand, Art Directors Robh Ruppel and Erick Pangilinan, Cinematics Animation Lead Josh Scherr, and Lead Technical Artist Mike Hatfield, the book presents decades of accumulated experience from some of the industry's most accomplished game creators.
The Art of UNCHARTED 2: Among Thieves provides a comprehensive collection of art from the concept art for characters and environments, to 3D character modeling, production art, cinematics and animation, and in-game effects. At 272 pages, the book sets a new benchmark for an "Art of" book and includes more than 180 pages of concept art, and over 80 pages of production art and character models. "I couldn't be happier with the way The Art of UNCHARTED 2: Among Thieves turned out," revealed Naughty Dog Co-President, Evan Wells. "It's a perfect way to capture forever the amazing work that the Naughty Dog artists and programmers put into Uncharted 2."
The Art of the Game series
Ballistic Publishing's Art of the Game series takes you into the world of game art development with the year's biggest game releases. Each book in the series will speak directly with the creative teams who conceive and create the games that are pushing the visual and technical limits. Each Art of the Game book will delve into the process of character and environment concepts with comprehensive galleries of level art, and then show how those concepts are turned into game art along with character models, cinematics and effects. In addition to the hundred-plus pages of concept art, the Art of the Game series will share insights from the game's creators making the series an invaluable learning tool for aspiring game artists.
Exclusive concept art video walkthrough offer
The first 300 customers to purchase The Art of UNCHARTED 2: Among Thieves softcover edition, and all Special and Limited Folio Edition customers will receive a free 15-minute walkthrough video of three concept pieces from UNCHARTED 2: Among Thieves. The video shows pieces by Naughty Dog Art Director Robh Ruppel and Concept Artist Andrew Kim.
Pricing and Availability
The Art of UNCHARTED 2: Among Thieves will be available in a paperback edition (USD$65.00), a leather-bound Special Edition (USD$129.00), and a collector's Limited Folio Edition with hand-crafted, leather-bound presentation case, and hand-signed and numbered Certificate of Authenticity from Naughty Dog's key creators (USD$300.00). More details about the books and availability can be found on the Ballistic Publishing website at: http://www.ballisticpublishing.com/books/uncharted2/
Publishing Information
ISBN #: (Soft Cover) 978-1-921002-71-7, (Special Edition): 978-1-921002-75-5, (Limited Folio Edition): 978-1-921002-70-0
Pages: 272 pages (All editions)
Dimensions: 220 x 297mm (9.7" x 11.7")
Editor/Publisher: Daniel Wade
Shipping: April 2010
"PlayStation" is a registered trademark of Sony Computer Entertainment Inc. UNCHARTED 2: Among Thieves is a trademark of Sony Computer Entertainment America Inc.
About The CGSociety and Ballistic Media
Ballistic Media operates two major divisions--The CGSociety and Ballistic Publishing. The CGSociety is the world's largest society of professional digital artists and provider of forums, portfolios, training, job and event services for the digital arts industry. Ballistic Publishing is the leading, independent publisher of books for the digital arts industry. Dedicated to publications of the highest quality and celebrating the talents of digital artists worldwide, Ballistic has set the benchmark as a quality boutique publisher. Ballistic Media is based in Adelaide, South Australia, with offices in Melbourne (Victoria, Australia) and Tampa (Florida, USA).
###