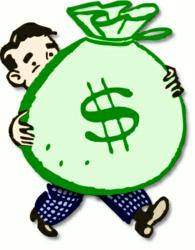 I went on to CashUnclaimed.com thinking there was no way I could have over $20,000 in unclaimed funds. Sure enough, I saw there was $20,046.99. I thought it was unreal."
Huntington Beach, CA (PRWEB) July 05, 2012
Unclaimed money can be miraculous. CashUnclaimed.com has helped thousands of people all over the country find billions of dollars and counting. Unclaimed money currently sits with state and federal governments, in corporate coffers and more. Some may find a few dollars of unclaimed money in their name, while others have found hundreds, and even thousands, of dollars belonging to them.
One man's recent story illustrates the power of CashUnclaimed. Jonathan M. found $20,046.99 from unclaimed insurance funds stemming from a tragic car accident. He suffered severe brain damage during the crash.
"Most doctors considered Jonathan a walking miracle. Just as tragic as the accident and injuries, the insurance failed to adequately cover medical expenses," said Bill McIntosh of CashUnclaimed.com
Urged by his girlfriend to search for unclaimed money, Jonathan M. used CashUnclaimed.com to find nearly $21,000 held in an account with Mercury Insurance. Jonathan had moved without updating his telephone number, therefore he was unreachable and clueless about this large sum of money he was owed.
"One of the main reasons unclaimed money exists is because people tend to move on without updating their contact information," McIntosh said. "Unclaimed money comes from many different sources including unclaimed insurance funds, unclaimed or forgotten checking or savings accounts, unclaimed utility money, and the contents of abandoned safety deposit boxes. Luckily, this money is held by the institution, and after a set amount of years, transferred to state and federal governments to await claim."
Since recovering this large sum of lost money, Jonathan has been able to put himself through college and purchase some investments. Without the aid of CashUnclaimed.com, Jonathan quite possibly would never have found these funds. CashUnclaimed.com has helped a skeptical Jonathan find his unclaimed money, which made a huge impact on his overall life.
There are currently billions of dollars in unclaimed money owed to Americans across the country. Jonathan is a great example of the success anyone could have by searching for unclaimed money!