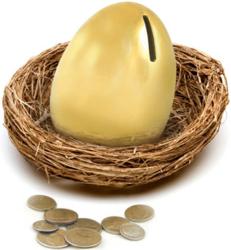 there are nearly 50 million "unredeemed" savings bonds belonging to millions of Americans. And all of them hopelessly lost.
Los Angeles, CA (PRWEB) October 10, 2012
It may be hard to believe, but someone really did; 13,000 of them. All $2.5 Million dollars worth are the property of a single forgetful individual. And if that sounds impossible, then consider this: according to Dan Anderson, expert lost money detective at UnclaimedMoneyDiscovery.com, "There is another $16 Billion in unclaimed savings bonds just gathering dust; waiting for the rightful owners to come forward and cash them in". Before the advent of the gift card, savings bonds were all the gift-giving rage. Grandparents gave them to grandchildren at birthdays and graduations; parents bought them to save for college tuitions; they were handed out by the millions at Christenings, Bar Mitzvahs, Confirmations, Christmas and Chanukah. But in an age of paper records and cash stuffed in the mattress, people had a hard time keeping track of them. After all, with maturity dates between 20 and 40 years down the road, it's easy to misplace a piece of paper. Now there are nearly 50 million of these "unredeemed" bonds; belonging to millions of Americans, and all of them hopelessly lost.
Finding these forgotten fortunes can be tricky; which might be why they are still sitting there. Let's face it, if it were as easy as clicking a mouse, then everyone would be online filing their claim. And with the average claim amount at nearly $1,000 dollars, there's no lack of motivation. So where does an unclaimed money hunter start? Well, if they happen to be experienced in genealogy, then this might be the perfect place to dig in. This treasure trove of savings bonds has been around for a while and there's a very good chance that the average person's parents, grandparents, perhaps even great grandparents purchased some of these bonds as gifts or investments and simply lost track of them. Genealogy (the tracing of lines of descent), is the first step in this process. For the lucky treasure finder, there might already be a family tree that was painstakingly assembled by a meticulous relative. For the not so lucky, diving head first into this genealogy process is the only alternative. It can be a lot of fun, but do not be fooled ; it's going to take a lot of time and effort. It will require tracking down things like past addresses, birth records and work histories. And to track down and claim these long-lost savings bonds; even social security numbers will be required.
So what if there just isn't enough time to take on a project like this? Well, consider hiring an expert. UnclaimedMoneyDiscovery.com is a lost asset recovery firm with a specialty in genealogy. With input from the treasure hunter, they'll assemble a family tree and initiate detailed searches of the various state, federal and private databases, looking for nuggets of lost cash that may have gone unclaimed by heirs and other family members. If they locate that long-lost rich uncle's unclaimed jackpot, they will help track down the documents necessary to file a claim (things like birth certificates, marriage and death certificates). Keep in mind that lost savings bonds are just the tip of the unclaimed money iceberg. There are unclaimed life insurance policies, stocks, bank accounts, pensions, social security payments and literally dozens of additional sources to uncover. And with as many as 8 out of 10 people on the list of people that are owed money, the chances of discovering a viable claim goes up with every relative added to a family tree. To make things even more exciting, these unclaimed money lists grow by about 5 billion dollars a year, so each quest becomes never-ending. It's a great hobby; especially if one has the wherewithal to employ the assistance of an expert lost money hunter.
To find out if there may be an unclaimed savings bond or two buried in that family tree, be sure and drop by UnclaimedMoneyDiscovery.com and cash in on a free personalized search. Visit http://www.unclaimedmoneydiscovery.com/freesearch.