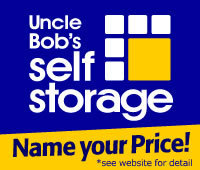 Buffalo, NY (PRWEB) July 1, 2010
It was 1985 when the company's founders broke ground for their first self storage property and they never looked back. "At that time, self storage was still in its infancy," said Robert J. Attea, CEO. "We saw it as a tremendous opportunity for us to not only enter – but define - a promising new industry." Today, Uncle Bob's Self Storage is the fourth largest operator in the United States employing over 1,000 people in 24 states. "On behalf of my partners and me, I want to thank every member of the Uncle Bob's Team for their contribution to our success," Attea continued.
David Paolini, who joined the company in 1983, and is now Vice President of Revenue Management, recalls a very humble start in technology. "We would do our acquisition analysis on the storage facilities with two IBM PCs that ran 5 -¼" floppy drives and a dot matrix printer", said Paolini. "I remember calculations took 11 minutes to complete for every change. We were excited about an upgrade that reduced that time to 9 minutes!"
Today, Uncle Bob's has hundreds of networked PCs, two data centers, and uses a robust revenue management system to manage rates for all 200,000 storage units. Further, the company enjoys a centralized Customer Care Center that employs highly trained sales people who handle reservations for the company's 371 storage facilities. The properties offer amenities like computerized access systems and surveillance cameras as well as the company's state-of-the-art Dri-guard dehumidified storage units.
"In the late eighties, a typical storage facility was characterized by a small rental office, a manual gate surrounding the facility, and caretaker type management," added Ed Killeen, Executive Vice President. "We now have greater expectations of ourselves and our teams, holding everyone to much higher standards."
The company has heart, too. Diane Piegza, Vice President of Corporate Communications, attributes part of the company's success to their ethics. "One of the first things I noticed when I started with Uncle Bob's was the high level of ethics and compassion built into its culture. They really care about their employees, customers, and shareholders alike. Even with our growth, we've held strong to our values."
About Uncle Bob's Self Storage: Uncle Bob's Self Storage® is owned by Sovran Self Storage, Inc., a real estate investment trust (REIT) that is in the business of acquiring and managing self storage facilities. Through innovative marketing and product development, the Company has differentiated itself with value-added products and services such as Dri-guard, their state-of-the art dehumidification system; Uncle Bob's Rental Trucks, and a national call center featuring a fully integrated sales and reservation system for the Company's rental spaces.
###