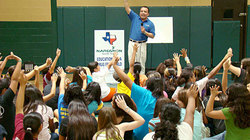 Los Angeles, CA (PRWEB) June 29, 2010
It was a doubly good day for kids in Ghana -- 2000 high school students first got several drug education programs delivered by Narconon Ghana, danced and marched through the town of Nkawakah in the Kwahu West District, listened to police and dignitaries, then got to race off and see Ghana beat the US in the World Cup.
26 June yearly is the UNODC International Day Against Drugs. Narconon with 150 centers and groups in 45 countries along with like-minded friends celebrates the occasion by holding special events geared around drug education. This 26th was in the middle of the World Cup, so youths who agreed to participate should get extra credit. And a lot did participate.
In Nepal, Basanta Kunwar, former Superintendent of Kathmandu Police and now director of Narconon Nepal, conducted a drug awareness seminar with 90 civil servants and police officers, lectured to 10,000 students in Thimi City following a 3 kilometer march through town, and capped it off in a sit-down with Home Secretary Nizwan Ansari.
In Mazatlan, Mexico, there are over 30 drug rehabilitation centers collaborating with Narconon International in a program called the Narconon® First Step, which includes projects oriented around The Way to Happiness, a book of common sense moral choices by L. Ron Hubbard and wonderfully popular with children and young adults. Hundreds of them got together to march down the beach with banners and all and thumb their noses at drug violence.
Italian Narconons held public events in Terni and Avellino, where the Fratta-Solofra Elementary School has been campaigning for the whole past year against drugs, writing their own book on the subject.
The Colombia team along with the National police and other prevention groups set up a booth in Lourdes Park north of Bogota where they distributed drug education materials to hundreds of people.
Narconon South Texas in Harlingen gave spirited drug education talks. Nevada took a colorful posterboard to a park where children and adults signed drug-free pledges. Cape Town, South Africa distributed drug ed booklets. We could go on and on. But kids worldwide made a day of it.
For more information on Narconon drug education and public awareness events, visit http://www.narconon.org and click on Community Activities.
###