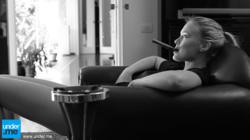 "It's been fantastic to be involved from the very beginning; designing what I believe is a premium yet affordable underwear range that is simple, comfortable and stylish. I, like a lot of people, look and feel my best when I'm comfortable. Underneath my c
London, UK (PRWEB) May 05, 2012
As Bar Refaeli's first foray as a designer, under.me aims to deliver a premium underwear collection influenced by her own personal sense of style. The back to basics range focuses on detailed simplicity with each piece carefully created and selected, giving you an understated style that comfortably compliments your figure.
After the successful launch on April 1st of her exclusive website http://www.under.me, she now moves forward to launching her men's collection. This collection of essentials underwear delivers a handpicked range made from the finest natural material sourced from turkey. The men's collection incorporates uncomplicated lines and diligent detail into a range of briefs, trunks, boxers and tops that come in black, white, grey-mélange and charcoal. This is in addition to the women's line of briefs, barlette and tops in black, white, grey-mélange and body. 
An exclusive video is now available at under.me/video
From $9 - $24, the new collection designed by Bar Refaeli, is available exclusively at under.me.