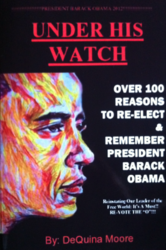 Aren't you TIRED of hearing about what Obama hasn't done?
Los Angeles, CA (PRWEB) October 16, 2012
Dequina Moore an accomplished actress, singer-songwriter, performer, producer, entrepreneur and now author says this book "UNDER HIS WATCH": Over 100 Reasons to Re-elect and Remember President Barack Obama," is a tribute to the 44th President. The negative criticism and the inflammatory commentaries on President Barack Obama was deafening to her. She very pointedly asks the question "Aren't you tired of hearing about what Obama hasn't done? I am just so TIRED that we seem to forget this 44th president inherited the worst economic breakdown of our country since the Great Depression. Moore aims to evolve the mind of those who don't have the facts, so here is what He HAS done'!!!
"UNDER HIS WATCH" is a fun easy read (the perfect coffee table book), listing over 100 reasons why Americans should re-elect President Barack Obama for a second term. Moore was tired of the misleading, negative right-wing propaganda and what she calls a misbehaving Congress. After countless hours of research on the topic Moore was galvanized by her findings to write the book. 'UNDER HIS WATCH" bares it all and gives us the naked truth. Moore's unique style of stating facts, anecdotal monologues, amazing artwork and poignant photographs captures your attention. There are also some unbelievable moments in presidential history which will make the reader treasure the book as a beautiful post-election keepsake. The most vital point made in the book, categorically describes the return on our investment, of all those who voted for Obama. The author makes it clear that we are to get out and re-vote the "O" one last time.
DeQuina Moore is a native Houstonian who graduated from the prestigious New York University's Tisch School of the Arts with a major in Musical Theatre. DeQuina made her Broadway debut and gained popular notoriety originating the role of "Chiffon" in "Little Shop of Horrors" and continued her Broadway run with "Legally Blonde The Musical". Television shows like "Third Watch", "Law & Order SVU", "CAMP" and many more ensued. Most recently DeQuina had a lead role in the Warner Bros. feature "Joyful Noise", alongside Queen Latifah and Dolly Parton.
The book is available at all the major retailers: Amazon.com, Barnes&Noble, https://www.createspace.com/3999734
For more information on the book, exclusive updates and more, visit the author of 'Under His Watch" at: http://www.dequinamoore.com or find her on
Facebook: facebook.com/DeQuinaMooreMusic
Twitter: @dequinamoore