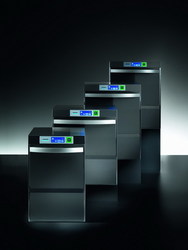 (PRWeb UK) September 26, 2009
If they could have anything they wanted, anything at all, what features would caterers build into their 'dream machine' warewasher? That's what Winterhalter set out to discover before developing its new undercounter dish and glasswashers. The company commissioned research and then built a website, http://www.my-dream-machine.biz, where caterers from around the world were encouraged to build their perfect dream machine.
The result, says the company, is a range of undercounter warewashers that exactly meets the needs of the industry. The four key areas that the research highlighted were ease of operation, quality washing results, ease of maintenance, and low running costs. Winterhalter has developed new technologies to meet the demands of its customers and the UC Series sets the standards in each of the four areas.
For example, UC models are incredibly easy to operate – in any language. They have a single start button, which changes colour to indicate the progress of the wash cycle, and a touchscreen with simple, clear symbols and animations that everyone can understand. Thus to set a UC glasswasher to clean delicate wineglasses, the operator simply touches the wine glass symbol and pushes the start button.
To ensure perfect warewashing, whatever the local conditions, Winterhalter developed the VarioPower washing system. It uses a brand new design of elliptical wash arms that create a 'wash-field' of cleaning power and delivers the best-ever results in an undercounter machine. VarioPower also allows the user to adjust the power and pressure to take account of how delicate or dirty the glasses, dishes or utensils are. Another 'UC-first' is that each machine can be tailored to the conditions on-site, a process carried out by the installation engineer, so that it works to optimum efficiency for the local conditions of, for example, water hardness.
UC machines are easy to look after. Self-cleaning and decalcification programs cover the two main regular maintenance chores, while the error management system uses the touchscreen to warn users if anything goes wrong.
Winterhalter is at the forefront of resource efficiency and is committed to reducing energy, water and chemical usage. The UC Series offers a variety of resource and cost saving features – for example, each washing program has an optional 'Eco' mode that minimises resource consumption while extending the washing cycle, saving up to 11% in running costs.
The UC machines are available in four different sizes, small, medium, large and extra large, and four different configurations, one each for dishes, glasses and cutlery or utensils, plus the multi-purpose bistro version, which can wash glasses and dishes at the same time. The glasswashers can process up to 48 racks per hour, with racks ranging in size from 400x400mm in the small model to 500x540mm in the extra large. The dishwashers and Bistro machines handle up to 40 racks per hour, the cutlery or utensils washers up to 11.
The UC Series is part of Winterhalter's IRT (Intelligent Resource Technology) project, aimed at reducing the consumption of water, power and chemicals in warewashing. The machines will be available through authorised dealers.
Winterhalter provides a total solution for warewashing, from pre-sales advice to after-sales service, training and maintenance. Alongside its market-leading dish and glasswashers, the company's range includes utensil washers, advanced water treatment machines, cleaning chemicals and detergents. For further details, call Winterhalter on 01908 359000, see http://www.winterhalter.co.uk, or email info(at)winterhalter(dot)co(dot)uk.
UC Series launch.doc – Sep-09
Press Enquiries:
Toni Turner or Alison Haynes at The Publicity Works: 01263 761000 Email: winterhalter(at)publicityworks(dot)biz
Paul Crowley at Winterhalter: 01908 359000
Separations charge enquiries: offers are ONLY accepted by fax to Toni Turner on 01263 761009.
All offers are considered. We will call you if the answer is 'yes'. Otherwise the answer is, regrettably, 'No'.
# # #