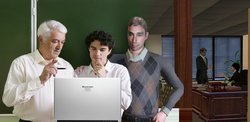 Students have a better appreciation and understanding of their support role in an organization as an IT or IS major
Oklahoma City, OK (Vocus) November 3, 2010
Vertical Learning Curve (VLC), a leader in the field of 3D learning, announced today the availability of the Ultimate V-Learning™ Undergraduate Courseware for professors with in-class students. This new, interactive curriculum is the perfect contemporary solution for professors who have grown tired of using textbooks with limited student engagement. Undergraduates in Management, Marketing, Human Resources, MIS & IT, International Business, Quantitative Analysis, Accounting, International Finance and Business & Culture can now experience "live action learning" as coined by one of the early adopters of the program, Gary Schmidt, Assistant Professor and Chair of Business for Simpson University in Redding California.
Professors who piloted the Ultimate V-Learning™ Undergraduate Courseware are enthusiastic. "Students have a better appreciation and understanding of their support role in an organization as an IT or IS major," said Orneita Burton, Assistant Professor, Abilene Christian University. "Our interest is in providing an active learning experience for students where they can think critically about the interaction between people, technology, and business and where they collaborate with external players in a simulated, yet life-like business setting."
Undergraduates participate in an immersive 3D learning environment instead of, or in addition to, using the traditional textbook. Designed to support the work of a live professor the courseware extends the classroom with a wide range of assignments including videos, podcasts, and professional career resources. The interactive curriculum complements in-class lectures by providing students with an 'on the job' experiential learning simulation. The courseware transforms traditional textbook learning by using engaging animated stories whereby students log into the courseware via the Internet, play a vital role within a virtual company and work throughout the semester to complete their corporate (virtual) V-internship.
"Professors receive a comprehensive course guide including a sample syllabus, access to a library of 3D vignettes, course exercises and assignments and a summary of the built-in contextual assessments and module quizzes used within the self-assessment format of the undergraduate curriculum for the professor's to use in administering their in-class tests," said Steve Kubicek, VLC's Vice President of Marketing. Professors customize the material delivered through in class lectures based on their professional preferences. They are equipped with a dashboard allowing them to oversee students' participation, progress and performance within the immersive 3D interactive curriculum. Professors can now know when and how much their students are studying their subjects.
"Students learn best by doing. With ubiquitous video in our culture, we have found that the current demographic of students respond well to total immersion into 3D learning," said Dr. John Cragin, Professor and VLC's Board Chairman. "Undergraduates experience advanced 3D simulations as they immerse themselves within a virtual company that has been cloned from a real company, interact with avatar colleagues and learn by participating in dynamic real 'business world' scenarios. VLC's goal is to not only make learning fun and relevant, but to make it sticky. As participants progress through the V-Learning™ course they create a 'real history' or scenario memory. This enables them to later draw from the virtual experience and make better decisions."
Professor Gary Schmidt found that the V-Learning™ content gives context for class discussions. When he invited an international business executive to class the guest speaker voluntarily reviewed the 3D course and interwove the content being studied into his presentation. Schmidt enthusiastically noted that, "probably one of the nicest 'surprise' opportunities provided by this type of 'live action' learning is the way subtle cues to human interaction can be introduced and discussed in the classroom. Such relational IQ opportunities are very difficult to create in the typical class / text setting. While valuable in the domestic scene these are, of course, worth gold in the international business realm."
Donald R. Leavitt, Assistant Professor of Business and Department Chair at Corban University School of Business in Salem, Oregon likes the virtual internship component. "The VLC program gives the students the content needed with the added component of a virtual business internship," said Professor Leavitt. "The practical real life experiences they encounter in virtual business teach invaluable lessons that will enhance success when they graduate."
For more details see: http://www.vlcglobal.com/corporate/UniversityUltimate.aspx.
VLC specializes in the development of premier training including an online Executive MBA program, Masters in International Business and other online graduate and undergraduate courses being delivered by a growing list of colleges and universities.
About Vertical Learning Curve
VLC was formed in 2006 in response to the call by the American Federation of Scientists (and others) to take advantage of web, database, and virtual reality technologies to do something about the increasing costs and decreasing effectiveness of traditional classroom, lecture approaches to education and training. Today the technology company focuses its accumulated expertise and credentials in business and business training/education on (1) virtual-reality, experiential, accredited Graduate and Undergraduate Programs and (2) Continuing Education and (3) customized training for US and large international companies, NGOs, and government. For more information visit: http://www.vlcglobal.com.
# # #