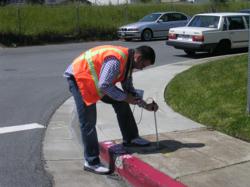 Your crews worked diligently in the field and were proactive at all times. Thanks for being attentive as always to HNTB's needs
Burlingame, CA (Vocus/PRWEB) June 15, 2011
EXARO Technologies, a preferred provider of underground utility services headquartered in Northern California, is expanding its services to Southern California.
"Your crews worked diligently in the field and were proactive at all times. Thanks for being attentive as always to HNTB's needs," said Peter T. Anastos, Senior Project Engineer of HNTB Corporation.
Citizens of Northern California have long experienced the high level of quality services from EXARO Technologies and now clients in Southern California are discovering the company for the first time. They have recently completed successful projects in Anaheim and Long Beach. EXARO is going the extra mile to ensure no underground utility goes undiscovered in project location, which is critical to a successful project. The company has a dedicated project team that delivers excellence with a sense of urgency in utility locating, thus minimizing the risk with the "unknowns" of underground utilities. With a commitment to delivering excellence with a sense of urgency at competitive pricing, EXARO Technologies now offers quality and efficiency to the Southern California community.
For more information about the services of EXARO Technologies, call (650) 777-4324 or visit http://www.EXAROtec-bayarea.com.
About EXARO Technologies
EXARO Technologies Corporation was incorporated in San Francisco on March 22, 2005. EXARO broke ground on its first project July 1st, 2005 and quickly grew to be one of the leading providers of utility locating services.From day one, EXARO took an engineering based approach to set the standard for "best value" in our service industry. We continually evaluate processes as part of our commitment to quality. EXARO is a "One Stop Shop" for all utility locating services, leak detection, and cathodic protection. We also provide consulting services to help you determine the most efficient and effective approach for all projects. The EXARO team, with 100 years of combined experience, is leading the way. They pride themselves in delivering excellence with a sense of urgency at competitive prices.
###