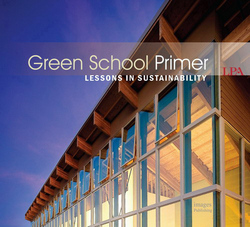 Green School Primer: Lessons in Sustainability.
New York (Vocus) March 9, 2010
Want to learn more about green schools? Now's your opportunity. Environmental Design + Construction (ED+C) magazine is set to host a complimentary webinar called: Understanding Green Schools on Wednesday, March 17 at 2 p.m. (EDT). And yes, your calendar is right, it's also St. Patrick's Day –the greenest day of the year.
"I've seen a growing focus on sustainability and modernization in the K-12 school market, and that's why this webinar is so important and timely," says ED+C Senior Editor Michelle Hucal.
The one-hour session feature's content from green schools advocate Wendy Rogers, who is also a Design Principal at California-based LPA Inc. and leader of all things green schools for the U.S. Green Building Council (USGBC) in Orange County. She is joined by LPA Senior Educational Facility Planner Kimberly Coffeen and LPA Landscape Architect Arash Izadi.
"Wendy and her team –all LEED Accredited Professionals-- will address some of the most crucial issues surrounding green school development, from costs and legislation to the integration of sustainable curriculum in the classroom and what education will look like in the future," continues Hucal.
The course is approved by the USGBC for 1 GBCI CE Hour toward LEED Professional credentialing maintenance. And the AIA has approved it for 1.0 HSW-SD learning unit.
Learning objectives include: 1) understanding how long range educational facility master plans support the integration of sustainable principles; 2) learning how a planning process can encourage schools as centers of community; 3) discussing educational programming and how one can integrate these efforts with social and economic values; 4) learning up-to-the-minute sustainable strategies in storm water management, with an emphasis on natural treatment, and more.
Attendees enjoy the benefit of getting up to speed on green schools, with a resource rich presentation by three of the nation's top sustainable school experts. Five lucky webinar participants will receive copies of the Green School Primer: Lessons in Sustainability, co-authored by Rogers and Coffeen. Winners will be drawn live toward the end of the interactive presentation.
"We each have the opportunity to step up in our communities and share the benefits of green schools with the learners and educators of today and tomorrow," finishes green schools advocate and architect Wendy Rogers. "A green school does not cost more to build, and can save a school district more than $100,000 each year. As districts continue to grapple with unprecedented fiscal concerns, green schools can play a major role as part of their solution."
About Environmental Design + Construction
Environmental Design + Construction (ED+C), the premier source for integrated high-performance building since 1977, is dedicated to efficient and sustainable design and construction. ED+C supports nearly 28,500 subscribers, including architects, designers, specifying engineers and building owners/developers, to enhance the sustainability of new and existing buildings. Through leadership –as well as quality content in print, online and in educational events—ED+C continues to be at the forefront of the green building industry. It is published by BNP Media.
About LPA Inc.
Founded in 1965, LPA has more than 220 employees with offices in Irvine, Roseville, and San Diego, Calif. LPA provides services in architecture, planning, interior design, engineering, landscape architecture, signage and graphics. They have more LEED certified buildings than any firm in the state and of their employees, more than 78 percent are LEED accredited professionals. With extensive experience in public and private architecture, LPA designs a diversity of facilities that span from K-12 schools, colleges and universities, to corporate and civic establishments.
About Wendy Rogers
A Green Schools Advocate for the U.S. Green Building Council, Wendy Rogers works tirelessly to promote the adoption and execution of green schools in Southern California. A Design Principal at LPA Inc., her specialty is the integration of design and curriculum within educational spaces. In 2009, she co-authored the "Green School Primer: Lessons in Sustainability." Rogers has worked with more than 50 community groups, school boards and districts on schools across the state. At present, she is working on California's first LEED Platinum K-12 Public School in Chula Vista, Calif.
###