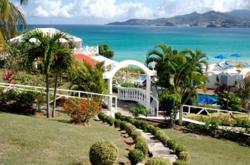 A wedding package that lets guests tie the knot underwater
(PRWEB UK) 22 October 2012
Kenwood Travel is pleased to reveal an innovative new wedding package from The Flamboyant Hotel in Grenada, allowing guests to tie the knot underwater. The package, entitled "Romance On The Reef", creates a never-before-seen spectacle for betrothed couples.
The pastor is trained by the Dive Grenada centre and vows are exchanged using slate and pencil, making this ceremony completely official and absolutely safe.
As a wedding destination The Flamboyant has always been one of Kenwood Travel's most popular spots as the resort is famed for its dedication to romance holidays, and with such an exciting new prospect, the hits will keep on coming. Only at the Flamboyant could someone's big day be made so much bigger. And when the couple come up for air, there's a tropical island paradise waiting.
Why not give one of Kenwood Travel's experts a call today on 0207 749 9220, who'll be more than happy to arrange the perfect wedding day at an affordable price.
And click here to see The Flamboyant Hotel & Villas profile on Kenwood Travel today.
About Kenwood Travel:

To contact Kenwood Travel's consultants, please call +44 207 749 9220.
Alternatively, visit the Kenwood Travel website for a comprehensive list of hotels, holiday packages and special holiday offers.
Kenwood Travel is a direct sell tour operator with over 35 years experience, a member of ABTA and ATOL holders (5664).
For affordable worldwide luxury package holidays, tailor made holidays, weddings, honeymoons or flights and fly drive holidays like Fly Drive Florida, Kenwood Travel is the trusted choice.
Kenwood Travel contracts directly with airlines and hotels to ensure there is no middleman taking a commission on these superb luxury holidays.
Kenwood Travel offers a range of different holidays destinations around the globe including holidays to the US, luxury resorts in the Caribbean, including Barbados and St Lucia holidays, hotels in the Middle East, and hotels and beach resorts of the Far East, Indian Ocean and Australia. Meanwhile an extensive selection of family holidays and all inclusive packages will suit all tastes and budgets.