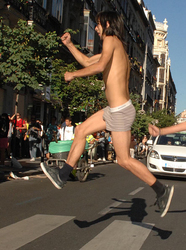 Desigual Undie Girls and Boys - We've Got Their Goodies, Goodies
New York, NY (PRWEB) September 14, 2010
DESIGUAL, the fun-loving Spanish apparel brand that's rapidly expanding in the U.S., announced today an in-store promotion for the bold: Undie Party! The first 100 people who arrive at Desigual's two New York City stores wearing just their underwear, will walk out in a free two-piece Desigual outfit; any one top and any one bottom (their choice).
When the doors open and the first 100 are admitted, this shopping spree will take on a festive atmosphere. Contestants will have the store to themselves for 1 hour to snap up their Desigual goodies. All apparel on the racks will be up for grabs! And, everything in the stores will be from the newly arrived autumn/winter "Happy" collection. Unide Party is open to male and female adults at least 18 years old.
And, all people in line after the first 100 will receive a 50% discount on same-day purchases. Because we're good like that.
Details:
Thursday, September 23rd
Desigual - Soho
594 Broadway at Houston, NYC 10012
Tuesday, September 28th
Desigual - Midtown
358 Fifth Avenue at 34th St., NYC 10016

Sunrise: 6:42 a.m.
Line starts: 7 a.m.
Qualification: 9 a.m.
Doors open: 10 a.m.
Rain Dates: Friday, September 24th; Wednesday, September 29th.
More Info: desigual.com
About Desigual:
Desigual (translation: It's not the same) is the colorful Barcelona-based apparel brand that has prided itself on being atypical since its origins on Ibiza in 1984. Today, it is entrenched throughout Europe, has a presence in Asia and the Middle East, and is rapidly expanding in the U.S. This year it has opened four U.S. retail stores, in Los Angeles, Miami, Las Vegas, and New York City (where it has two stores). The company sells men's, women's and kid's lines, and accessories. It has a growing wholesale division with more than 1,000 accounts in the U.S., such as Kidson, Julien Gold, Fred Seagal and Barneys. The brand is also carried at 25 Macy's stores throughout the U.S. Worldwide, it has 180 retail stores, 650 store-in-store corners, and 7,000 wholesale accounts, in 72 countries. In 2009, Desigual sold 9 million garments.
CONTACT:
Ronald Alan
Spin Control
212-726-2614
spincontrolpr(at)gmail(dot)com
spincontrol.biz
###