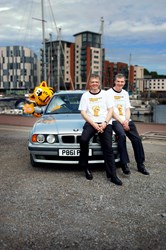 an epic journey from the UK to Mount Olympus in Greece in a car that cost only £361.
(PRWEB UK) 10 August 2012
Just as The Summer Olympics 2012 comes to a close this weekend, two staff from car insurance comparison site Tiger.co.uk will be commencing an epic journey from the UK to Mount Olympus in Greece in a car that cost only £361.
The event, named The Undy 500, involves several cars, each costing a maximum of £500, leaving Ipswich on August 12th to drive the 2,400 miles to Mount Olympus, hopefully arriving a week later. The event has been set up to raise money for two local charities; East Anglian Air Ambulance and St. Elizabeth Hospice.
Each car will have a pair of intrepid drivers who will get to know each other very well as they travel together on a route that takes in Cologne, Munich, Belgrade, Zagreb and Skopje as well as a spin around the Nürbergring. At Mount Olympus the teams who complete the journey will light a symbolic torch at the base of the mountain.
Andrew Goulborn, Commercial Director for the comparison site commented: "The Tiger Team will be driving a 16 year old BMW estate that has just under 200,000 miles on the clock, so it will be a test of both man and motor! Clearly being in the business we have made sure that they have European car insurance in place, but there will be no breakdown cover for these guys! The drivers are each paying their own expenses and have all agreed to raise funds for two great local charities - the Suffolk branch of St. Elizabeth Hospice and the East Anglian Air Ambulance. You will be able to follow our team's progress during the course of the week from their blog and video diary that will be posted up on the Tiger site."
About Tiger.co.uk:
Tiger.co.uk is a trading name of Call Connection Ltd. Tiger.co.uk is a UK based, independent car insurance comparison site, offering insurance quotes from over 150 motor insurance brands. Call Connection Ltd is authorised and regulated by the Financial Services Authority (number 308374).