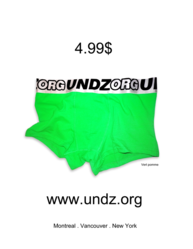 Undz.org the 4.99$ men underwear store
(PRWEB) September 06, 2011
Undz.Org, a Canadian-based online men's underwear online store, is today announcing its "rock-bottom" price break on all merchandise from as low as $4.99.
"If you fall within the age range 18-55 and looking for high-quality, name-branded men's under wear for as little as $4.99, then this is going to be your ideal shopping site," announced CEO, Bertrand Dore.
"Talking of Victoria Secrets for women, this is the men's version, and the aim is to give men underwear choices for a fair price," he added.
Undz.org men, which has a 30-day money back guaranteed on all underwear, offers an easy, fast, and effective service, according to Dore.
Founded in 2008 with the goal of becoming the premiere destination for men underwear online, Undz.org have since become much more than just an online underwear store.
"Our unwavering focus on superior customer service has allowed us to offer the best shopping experience possible. You'll find absolute best service and the best selection in online here at Undz.org," noted Dore.
For further information, please contact: Bertrand Dore, CEO, 450-968-1118, info(at)undz(dot)org, or visit http://undz.org/.
###