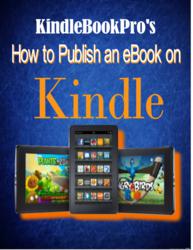 Writing a book is not a daunting task and can be very rewarding for anyone transitioning. KindleBookPro's How to Publish on Kindle helped put me on the map as an author.
LAS VEGAS, Nevada (PRWEB) August 21, 2012
The women's group had been meeting once a week for the past 8 months to lend support and exchange ideas on how to land another job. Collectively, members of the support group have been out-of-work for over a year. Now the group says, they have no need to subject themselves to rejection and have gained complete control over their finances. The women have been publishing their own expertise and experiences through eBooks and have been selling them on Amazon's Kindle.
Corrine Whitaker, the initiator of the group, said the women found a way to creatively express themselves after reading KindleBookPro's How to Publish an eBook on Kindle. They decided to try their hands at authoring a book and it worked. Whitaker says, "Instead of spending energy job interviewing, we are taking what we already know and packaging it for others to enjoy, which in turn has been very profitable." This could very well explain how Nevada's unemployment rate is increasing as there are jobs being added, as alot of the residents are creating their own income. According to a news article released on FoxReno.com, by the Nevada News Bureau today, "Nevada's seasonally adjusted unemployment rate jumped four tenths of a percentage point in July to 12%."
However, according to the Association of American Publishers and the Book Industry Group, "net sales revenue from eBooks increased from $869 million in 2010 to $2.074 billion in 2011. That's 15 percent of net revenues for publishers." Bookstats 2012 show the eBook phenomenon is steadily growing and new authors are riding that digital wave and foregoing trying to be employed.
The popular guide, KindleBookPro's How to Publish an eBook on Kindle, approaches the subject of writing an eBook with vivid illustrations, a bit of humor and lots of examples, and of course, a unique viewpoint that makes for a very friendly, non-intimidating read. According to Sarah Black, another member of the support group, KindleBookPro's How to Publish an Ebook on Kindle has been a lifesaver. "I had never written a book. I thought it would be too daunting of a task and I was clueless as to where to start. But when Corrine told us about the book, we instantly purchased it thinking it could be a tiny investiment for a much bigger return. I mean, I spend $5 on Starbucks anyway."
The downloadable ebook (in pdf format) sells for $5 and includes 24-hour email support if you have any questions getting your book on Amazon's Kindle. Another valuable resource that has helped the group is the quirky-named site, PurpleBananaBrain.com. The high-end site has become a favorite among new and seasoned authors for ebook cover design, book trailers and publicity services. Their story graphics for social media marketing, in particular, have garnered national attention and have been putting new authors on the map.
"It wasn't an easy road for us initially," says Barbara Lewis, a member of the group and former hospitality employee. "When we first started meeting, we thought the world revolved around finding another job. Before we read the guide on how to publish on Kindle, we read the book, Laid Off or Fired? How to Get Your Life Back, which actually corrected our mindset and jolted us back into reality and out of the rat race."
The part of the book Lewis recalls talks about 10 reasons being fired is a blessing. Here's an excerpt:
"Having a job and trading your time for money seemed like a good idea. You probably thought it was working too. Newsflash: That was a bad idea and it wasn't helping you, it was hindering you. You may as well have worn a uniform to work that said, 'Kick my a--. I might wake up!' Earning income from a salary is by far, the laziest and dumbest way to put money in your pocket. It should be part of the Idiot's Guide book series, 'Idiot's Guide to Earning Income – 500th Edition.' ... With a job, you only get paid when you're working. You give your boss 8 hours, he gives you 8 hours of pay… of an amount s/he already predetermined before you even started the job. Awry? Certainly. ... Remember as a child, adults used to bend down to your height and say, 'What do you want to be when you grow up?' Then they proceeded to tell you all the different jobs you can choose from after you graduated from college. You see, since a child, you've been brainwashed to think you could only earn income while working on a job. Go to work and get paid, and then repeat. Repeat until you're a 65-yr old bedwetter drawing the government's false sense of social security playing checkers in the old folks' home."
Lewis says before their publishing success, they had to overcome lingering issues such as dealing with the shock of losing a job, coping with family needs and most importantly getting rid of fear which are all discussed, very candidly, in the book.
According to the author of the book, "People love it or hate it. It's very extreme, but true, whether your brain allows you to admit it or not. But the whole idea is to get people to know that there are options and everyone has the inner power to push through. The book helps to overcome alot of the issues that, unfortunately, hold people back from advancing."
KindleBookPro's How to Publish an eBook on Kindle is available for instant download ($5), or to find a myriad of services for new authors, visit http://www.purplebananabrain.com.
Laid Off or Fired? How to Get Your Life Back & Generate Income, by L.Kimble ($9.99). Follow the author on twitter @9PinkDiamonds