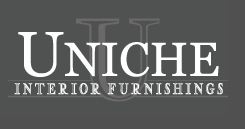 We knew our products were good, but exposure like this, so early on after launching the business is fabulous. We spend a long time sourcing and designing our products and selecting pieces we think will work with peoples' lifestyles
(PRWEB UK) 20 September 2012
A start-up company trading for just six months has hit publicity gold with its vintage inspired furniture appearing on a high profile reality TV series produced by and featuring international superstar Rihanna.
The company, UNICHE, sells a range of furniture and accessories aimed at interiors savvy individuals and was thought to have exactly the right design features to dress the sets of 'Styled To Rock' – a new, hour long show which aims to find Britain's new fashion talent.
The show, aired on Sky Living, is co-hosted by Girls Aloud singer Nicola Roberts, designer Henry Holland and Rihanna's personal stylist Lysa Cooper. Over the ten week period unknown designers will be challenged by Rihanna, Nicola and Henry to create outfits for a selection of well-known musicians and celebrities.
Production designer for the new show, Simon Hatter, said: " Uniche were right for me as the products were truly unique and individual. I hadn't seen any other products that had as much original details mixed with amazing customisation. The items fitted perfectly within the Rough Luxe feel I was going for and when they arrived the items were even better than imagined."
UNICHE operates from rural Worcestershire and is run by Mark Bentham and partner Laura Lane.
Laura said: "We were knocked out when Simon called us. At that point we'd been trading just three weeks! We knew our products were good, but exposure like this, so early on after launching the business is fabulous. We spend a long time sourcing and designing our products and selecting pieces we think will work with peoples' lifestyles. This is furniture that WE use – it's not just stylish, it's functional and comfortable too."
Mark, a former property developer, added: "For years we've been involved with restoring and bringing neglected homes back to life and the greatest satisfaction came at the end of the project, when we looked at dressing the house to make it look great inside, as well as out. This is an extension of that idea and we wanted to share our ideas and vision with others."
With a growing order book, UNICHE is well on the way to establishing itself as one of the leaders of supplying quality furniture for the discerning home owner looking for something out of the ordinary.
For more details about UNICHE please visit http://www.unicheinteriorfurnishings.co.uk
Mark and Laura can be contacted on 01886 884091