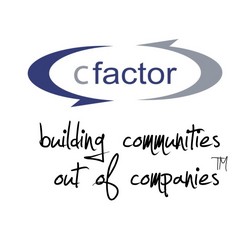 (PRWEB) May 4, 2010
cfactor®, a leader in transformative social business solutions, announced today that they will be co-producing a complimentary webinar with HR.com on Thursday, May 20, at 3:00 PM ET, entitled "Unifying People, Processes & Systems to Engage an Enterprise - The DeVry Commons Story."
The presentation will uncover how strategically unifying an organization's workforce using Web 2.0 technology can provide significant efficiency gains while boosting employee engagement.
Cary Schuler, CEO of cfactor, will join Deb Maher, Director of HRIS and Benefits at DeVry Inc., in discussing how DeVry has set out to virtually connect their workforce, improving employee communications and engagement, streamlining their processes and creating a new method of launching strategic initiatives across the organization.
Registration for the event is available through HR.com via the following link: http://www.hr.com/stories/1272381460491. If you are not already a member of HR.com, you will need to sign up for a free membership, which only takes moments. Once you have confirmation of your membership, you will be able to register for this webinar.
About cfactor
cfactor Works Inc. uses social web technology and strategies to deliver enterprise communication, community and workforce solutions. cfactor uniquely connects people, work process, social media and existing technologies to drive new insights and efficiencies - fundamentally transforming how our clients do business. Since its founding in 1999, cfactor has been delivering enterprise applications for Global 2000 companies.
Media Contact: Bonnie Clark, Marketing Manager, Toll Free 877-655-5798 x123
###