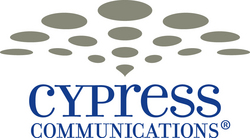 C4 IP will save us substantial capital and operating costs, enable our employees to utilize better communications and allow us to use that savings to fund other major initiatives to strengthen our infrastructure platform.
Atlanta, GA (Vocus) July 9, 2010
Crump Insurance Services, a leading property and casualty insurance wholesaler, will implement Cypress Communications® hosted VoIP and hosted unified communications solution, C4 IP®, across the company's 24 offices. Referred by Ascensus, another division of Crump Group and a Cypress customer for over a decade, Crump Insurance Services selected C4 IP to consolidate its communications across all locations, reduce costs and enable employees to communicate more efficiently.
"Consolidation and cost reduction were the two primary drivers behind the decision to select Cypress' C4 IP," said John Schroeder, senior vice president of IT for Crump. "In addition to providing consistent equipment and user experience throughout all of our offices, C4 IP will save us substantial capital and operating costs, enable our employees to utilize better communications and allow us to use that savings to fund other major initiatives to strengthen our infrastructure platform."
Previously, each Crump Insurance Services office had its own communications vendor, hardware and service contracts, creating duplication of effort and equipment as well as inefficiencies in the company's communications. After seeing the benefits experienced by Ascensus (Crump's retirement division), Crump Insurance Services turned to Cypress to perform a comprehensive telecommunications audit. Through this process, Cypress identified that the P&C (property and casualty) division could save approximately $10,000 per month via the C4 IP solution.
"To have one customer refer another is a great testament to the value of the C4 IP solution, and we are pleased to be the communications provider of choice for Crump Insurance Services," said Frank Grillo, executive vice president of marketing and customer support at Cypress Communications. "By streamlining communications across their offices with C4 IP, they gain a solid platform that not only saves the company money now, but also more readily accommodates future growth."
C4 IP is an integrated voice and data solution that provides the latest in hosted VoIP and hosted unified communications. As a hosted solution, C4 IP can be implemented with no upfront capital expense and no ongoing maintenance costs. Long distance charges are eliminated for branch-to-branch calling, resulting in additional cost savings. C4 IP comes complete with business phones, soft phones, unified messaging, Microsoft® Outlook integration and an array of collaboration tools such as audio and web conferencing, presence and chat. Cypress manages the solution from its robust IP network cloud to the phone on each desk, ensuring the highest quality of service.
For multi-location companies, C4 IP facilitates interoffice communications by enabling employees to 4-digit dial between offices and easily transfer calls across locations, eliminating communications run-around time and enhancing callers' experiences. Unified messaging provides the ability to forward and store emails just like any other email attachment.
About Crump Insurance Services
Crump Insurance Services, Inc. (Crump P&C) is part of Crump Group, the nation's largest insurance wholesaler. As the property & casualty insurance division of Crump Group, it is made up of Crump wholesale brokerage locations across the U.S. and in Bermuda (including the former Tri-City Brokerage) and Five Star Specialty Programs. Crump P&C is a market leading independent wholesale distributor of property and casualty insurance, linking an extensive network of retail brokers and agents to products provided by over 150 leading insurance carriers. Crump P&C offers specialty underwriting capabilities, numerous in-house binding authorities and supports the wholesale placement of a wide range of specialized commercial insurance solutions, including customized coverage for complex P&C risks, commercial and habitational real estate risks, products liability, high-limit property, catastrophe, and professional and medical liability. Its experienced brokers serve as a single connection point for its retail clients to access domestic and international insurance companies. Crump P&C offers customized insurance products as well as sophisticated system capabilities. Acting as a program administrator for numerous P&C carriers, 5Star Specialty Programs develops and provides specialty underwriting for commercial insurance programs – including transportation related risks, workers' compensation solutions, professional liability, and more – matching insurance needs and market opportunities with the appropriate coverage. Additional information is available at http://www.crumpins.com and http://www.5starsp.com.
About Cypress Communications
For over 25 years, Cypress Communications has been helping small-to-medium enterprises (SMEs) connect, communicate, collaborate and continue® with a range of fully hosted and managed voice, data and Internet solutions. Beginning in 2006, Cypress revolutionized the communications industry with its hosted VoIP and hosted unified communications solution, C4 IP, making it easy for SMEs to take advantage of productivity-enhancing technology such as integrated audio and web conferencing, multimedia collaboration tools, presence, chat, Microsoft® Outlook integration, and more. As a Deloitte Fast 50 and Fast 500 award recipient, Cypress is recognized as one of the fastest growing telecommunication companies in North America. The company has also been named one of Atlanta's Best Places to Work. Cypress has won a total of 26 awards for excellence and product innovation to date. The company's web address is http://www.cypresscom.net.
For more information, contact:
Heather Whitt Roberts
Cypress Communications
404-442-0034
© 2006-2010 Cypress Communications, Inc. The Cypress Communications logo is a registered service mark of Cypress Communications, Inc. C4 IP and Connect. Communicate. Collaborate and Continue are registered trademarks of Cypress Communications. All other marks used herein are the property of their respective owners.
###