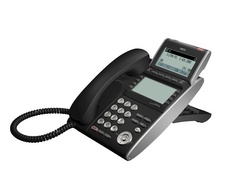 NEC's complete SMB portfolio extends our long-standing leadership in this market by providing our customers with advanced yet intuitive functionality normally found at the enterprise level
IRVING, Texas (PRWEB) March 12, 2008
"SMBs are evolving to compete on a higher level than ever before, which means while some companies still want reliable voice and dial-tone, an increasing number will look to applications-based communications and collaboration solutions to enhance their productivity and meet the demands of a Web-savvy workforce," said Sanjeev Aggarwal, vice president of IT and networking solutions at AMI-Partners. "In order for SMB's to implement these advanced applications, they need to have a robust and scalable infrastructure foundation that will enable them to both grow and compete."
NEC's UNIVERGE360 is an approach that puts people, and their role, in the center of communications. Once users' roles are identified, NEC can build a communications solution that best meets the needs of the company. UNIVERGE360 starts with a Unified Infrastructure, then adds in specific elements of Unified Communications, and integrates these with the existing business processes (Unified Processes). NEC is unique in that it also offers a full range of services and has global partnerships to support the needs of SMBs.
NEC's new SMB solutions are anchored by the UNIVERGE SV8100 and SV8300 communications servers. When either of these is combined with our UC for Business single-server UC application and revolutionary new IP and digital terminals, businesses can change the way they communicate.
"NEC's complete SMB portfolio extends our long-standing leadership in this market by providing our customers with advanced yet intuitive functionality normally found at the enterprise level," said Jeff Kane, president of NEC Unified Solutions. "With UNIVERGE360, we provide our SMB customers with a solid infrastructure and advanced applications to help unify their business communications based on the role that each employee plays."
The SMB offerings are available through the NEC Associate Dealer network as well as direct from NEC. These solutions include the following:
Unified Infrastructure
-- UNIVERGE SV8100 and SV8300 are robust, feature-rich communications servers that are scalable to meet a growing business's needs. Supported features and applications include calling number and name display, conferencing, soft keys, voicemail, unified messaging, speed dialing and automatic call distribution (ACD), as well as support for hospitality management features, wireless handsets and softphones.
Both solutions support UC for Business, NEC's robust, single-server UC application. In addition, the SV8300 supports the UC for Enterprise suite of applications for larger deployments demanding even more advanced functionality. On both models, the Windows(R)-based PC Pro troubleshooting tool provides online HTML-based programming access for centralized management and allows administrators to manage terminals, schedule maintenance and firmware updates, moves, adds or changes remotely.
The SV8000 Series offers unique networking features, Netlink for the 8100 and Remote Link for the 8300, that enables the communication servers to function alone or in a network and extends a business's reach to its remote offices while providing increased efficiency, enhanced security and feature transparency - regardless of the primary unit's physical location.
-- UNIVERGE DT700/DT300 terminal series includes a new family of IP and digital terminals that move the standard desktop phone to the next level with an extensive feature set and modular design. UNIVERGE terminals provide:
-- scalability and customization;
-- SIP support;
-- investment protection;
-- XML open interface support(1);
-- intuitive interfaces; and productivity-enhancing features such as menu-driven soft key functions and easy-access function keys.
The revolutionary modular design allows for up to 8,000 combinations to fit almost any business's needs or personalization requirements.
Unified Communications
For robust UC functionality at the SMB level, NEC offers UC for Business (UCB). Supported on both the SV8100 and SV8300, as well as on current platforms, this application suite is designed to address more complex organizational needs with contact center functionality, rich presence, mobility, unified messaging and desktop telephony applications. UCB offers scalability and enhanced communication functionality, and whether used as a stand-alone application or integrated with Microsoft(R) Outlook(R), helps to increase productivity, enhance collaboration and improve management of communications.
UC for Business is generally available today, while the UNIVERGE SV8100/SV8300 and terminals will be commercially available at the end of April.
(1)XML open interface support enables developers to create tailored applications, which are displayable and accessible via NEC's IP terminals. Global icons indicate status at a glance including notification of new voice or instant messages, missed calls, the telephone user's current presence status, and the device's current data protection mode.
About NEC Unified Solutions
NEC Unified Solutions helps companies unify their business through innovative software, applications, development tools, and services. NEC offers a complete portfolio for unified communications, wireless, voice, data and managed services, as well as systems integration and application development. NEC Unified Solutions, a wholly owned subsidiary of NEC Corporation of America, serves Fortune 1000, as well as small to mid-sized businesses across the globe in vertical markets such as hospitality, education, government and healthcare. For more information, visit http://www.necunified.com.
NEC and UNIVERGE are registered trademarks of NEC Corporation. All other brands and products referenced herein are acknowledged to be trademarks or registered trademarks of their respective holders.