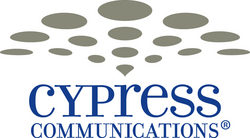 At Cypress, we partner with our clients to create customized solutions that meet their unique communication needs and help bring additional value to their businesses.
Atlanta (Vocus) November 12, 2009
Cypress Communications® proudly announces that it has been selected as the exclusive wireless provider for two floors of Dallas Market Center's World Trade Center wholesale marketplace, encompassing over 300,000 square feet. Cypress was selected based on its long history of successfully providing communications services throughout the Dallas Market Center and for its ability to provide cost effective, yet robust, wireless services.
For the marketplace, Cypress deployed the latest in wireless technology -- 802.11n -- to create a comprehensive wireless network. Cypress' wireless network can be accessed on-demand by the building's temporary exhibitors, eliminating the cost and complexity of running individual cabling to each exhibitor's booth during markets. With the wireless network provided by Cypress, exhibitors benefit from quick turnaround time in gaining Internet access, robust bandwidth and reasonable pricing.
"Dallas Market Center's goal is to offer the best market experience to our exhibitors," said Steve Dumas, vice president of corporate services at Dallas Market Center. "It's important for us to have high-quality wireless Internet access available for our temporary exhibitors at prices lower than our competitors. Cypress has been our telecommunications provider for many years, and their service and reasonable pricing made them a perfect fit for our new wireless network."
"At Cypress, we partner with our clients to create customized solutions that meet their unique communication needs and help bring additional value to their businesses," said Frank Grillo, executive vice president of marketing at Cypress. "We were pleased to expand our partnership with Dallas Market Center and to help them achieve their goal of providing an enhanced market experience."
With a variety of solutions delivered through the Cypress hosted and managed delivery model -- from traditional voice and data to comprehensive unified communications -- Cypress enables customers to avoid upfront capital expenses while also avoiding the costly and time-consuming process of ongoing maintenance and management of the solutions.
About Dallas Market Center
Founded in 1957, Dallas Market Center is the world's most complete wholesale marketplace. Within its marketplace of more than five million square feet, retailers from around the globe source products ranging from home furnishings, gifts, decorative accessories and lighting to textiles, fashion accessories and men's, western, women's and children's apparel. With more than 50 markets each year attended by more than 200,000 retail buyers from all 50 states and 84 countries, Dallas Market Center offers hundreds of events and seminars geared toward helping retailers expand business and increase profits. As a result, more than $8 billion in estimated wholesale transactions are conducted annually within the Dallas Market Center complex. The Dallas Market Center Web site is available at http://www.dallasmarketcenter.com.
About Cypress Communications
For over 25 years, Cypress Communications has been helping small-to-medium enterprises (SMEs) connect, communicate, collaborate and continue® with a range of fully hosted and managed voice, data and Internet solutions. Beginning in 2006, Cypress revolutionized the communications industry with its hosted VoIP and hosted unified communications solution, C4 IP, making it easy for SMEs to take advantage of productivity-enhancing technology such as integrated audio and Web conferencing, multimedia collaboration tools, presence, chat, Microsoft® Outlook integration, and more. As a Deloitte Fast 50 and Fast 500 award recipient, Cypress is recognized as one of the fastest growing telecommunication companies in North America. In 2008, the company was also named one of Atlanta's Best Places to Work. Cypress' hosted unified communications solution has received numerous awards and accolades, with 18 awards for excellence and innovation to date. The company's Web address is http://www.cypresscom.net.
For more information, contact:
Heather Whitt Roberts
Cypress Communications
404-442-0034
hwhitt(at)cypresscom(dot)net
© 2006-2009 Cypress Communications, Inc. The Cypress Communications logo is a registered service mark of Cypress Communications, Inc. C4 IP and Connect. Communicate. Collaborate and Continue are registered trademarks of Cypress Communications. All other marks used herein are the property of their respective owners.
###