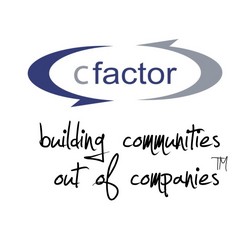 Saskatoon, SK (PRWEB) October 27, 2009 -
cfactor, the leader in transformative Enterprise 2.0 solutions, today announces a major milestone with the release of Version 7.
Version 7 introduces a game changing new user experience with its specialized workforce hubs/explorers, expanded functionality, bold new analytics/workforce insights and an even broader interweaving of social web technologies with enterprise business processes.
Cary Schuler, cfactor's Co-Founder and CEO, commented, "Version 7 delivers on the promise of Enterprise 2.0 by combining the latest social web tools with workforce automation / process flow in a way that delivers real business value. Our comprehensive platform strategically aligns your systems, people and processes with your strategy. We are not a stand-alone social networking application. We provide a comprehensive platform that leverages the best that social web has to offer with a suite of workforce applications. Our unique adoption services program takes the guess work out of how executives can leverage enterprise 2.0 to change the way they interact with their workforce."
Common strategic applications of the cfactor solution include:

Next generation workforce solutions
Workforce analytics & insight
Corporate transformation, culture & onboarding
Knowledge, learning & engagement
Enterprise integration & enhancement
cfactor is implemented as a web-based employee portal environment that seamlessly connects to a client's existing application(s). As such, it performs as a strategic enhancement / unification platform that leverages existing technology investments - significantly reducing implementation timeframes and costs associated with workforce communication/automation technologies. In addition, service delivery and communications capabilities to employees and other stakeholders throughout the enterprise are fundamentally transformed through integrated web 2.0 capabilities.
Version 7 includes new functionality in a number of key areas, such as:

employee-centric user interface
improved search capabilities
new social media tools and enhancements to existing tools
performance and infrastructure enhancements
enhanced personalization capabilities
Broader set of talent, performance and compensation management tools
cfactor Version 7 uses a "multiple hub" concept that aggregates relevant workforce and social media information/work process/reporting tailored to the particular role(s) the employee fulfills in the organization. The hub approach drives significant user efficiency and engagement as the tools and information they need is at their fingertips - real time. Clients may choose to deploy hubs targeted at specific groups or job functions - for example, an Executive hub, a Compensation hub, a Training & Development hub, an Onboarding hub, Employee Hub, etc.
Version 7 is in full release and has already been implemented with several cfactor clients including a large multi-national advanced education firm, a major North American sporting goods retailer, and a leading national communications company.
Request a demonstration of cfactor today.
About cfactor
cfactor is the leader in transformative Enterprise 2.0 solutions. Combined with its unique adoption services program, cfactor improves corporate performance by unifying your people, processes and technology with your strategy by leveraging social media, self-service, and analytics. To pursue this vision, we are committed to an approach that provides our clients with industry leading flexibility and ease of use. With cfactor, organizations can transform their Human Capital strategy and approach to achieve critically important business objectives, while creating efficiencies and cost savings that translate into a rapid return on investment. cfactor clients include Fortune 500 organizations such as Starbucks, JC Penney, and Pepsico, with over 850,000 employees being managed by the cfactor SaaS solution. Founded in 1999, cfactor is headquartered in Saskatoon, Saskatchewan, Canada, with offices in Palo Alto, Denver, and Edmonton. For more information visit cfactor online at http://www.cfactorworks.com
Media Contact: Bonnie Clark, Marketing Manager, Toll Free 877-652-5798.