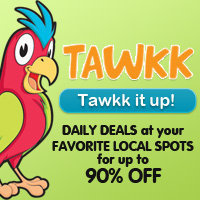 Our intent is to build long-term relationships with merchants, while letting customers know that they're guaranteed superb offers
Portland, OR (PRWEB) November 15, 2010
Portland-based companies are about to become part of a marketing strategy that costs them nothing to join and promises to deliver more customers and profits. Tawkk.com, in partnership with Unifusion Web Design, is coming to Portland. Plans are for other cities to be added soon, giving more people the opportunity to take advantage of Tawkk.com's daily deal offers.
Tawkk.com's marketing plan is unique within the daily deal industry. The company focuses on local marketing and organic growth to support a long-term business model. Unlike many daily deal firms that take upwards of 50 percent of the revenue generated, Tawkk.com's system keeps costs low so merchants can count on turning a profit on the deals presented on the Tawkk.com network.
"Our intent is to build long-term relationships with merchants, while letting customers know that they're guaranteed superb offers on great discounts for exciting products and services," said Matt Naumann, founder of Tawkk.com.
Merchants take advantage of Tawkk.com's ability to attract new customers by letting Tawkk.com showcase their products and services. Merchants don't have to spend thousands on ads. Tawkk.com already has a dedicated customer base to which the merchants can be presented.
The focus is on local marketing and organic growth to build long-term, sustainable business relationships. The costs are much lower for merchants than most competing deal sites.
"Having Unifusion as our dedicated development partner has definitely contributed to keeping the costs low," said Naumann. Unifusion managed the custom development and continues to handle all the on-going marketing efforts.
Tawkk LLC will begin serving customers in November, 2010. Unifusion Web Design has enjoyed incredible growth in recent years, expanding from Portland to cities like Seattle, Las Vegas, and Chicago.
As a special promotion, all users who sign up to receive daily deal emails from Tawkk.com, using the code PRWEB, will receive a $5.00 credit to be used on their first Tawkk.com purchase.
# # #