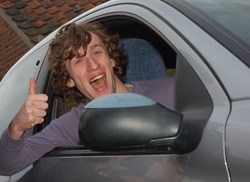 Younger people cost more to insure because the risk is higher
(PRWeb UK) September 27, 2009
The dangers of driving without insurance have been highlighted by new industry statistics that suggest a record number of UK motorists - particular young drivers – are uninsured. But Adrian Flux, a leading car insurance specialist, says that cash-strapped young drivers who rely solely on the Internet to find insurance are missing out on numerous tips and tricks to reduce their premiums.
The Motor Insurers' Bureau (MIB) estimates up to 5% of motorists nationwide are driving without insurance - and that most of these are young males, between 17 and 25 years old. Now Adrian Flux Insurance Services has issued advice on how to make insurance more affordable to help cash-strapped drivers avoid the 'no-cover' trap.
Flux spokesman Gerry Bucke says that one problem is the growing tendency of young drivers to go to insurance aggregators - websites that simply use computers to shop around. They end up with much larger quotes than they need to.
"Younger people cost more to insure because the risk is higher," he says. "To find the individual factors that can actually make many of them better risks - and reduce their premium - takes expertise and one-to-one advice. That's why it's important to talk to a specialist - it can save, potentially, a huge amount: hundreds and, in some cases, thousands of pounds."
Quick tips For Making Insurance Affordable:

Buy a lower-powered car - saving 50% or more. Perhaps the biggest mistake made - particularly for inexperienced and young drivers (or their parents) - is in buying too high-powered a car. A 1-litre car could easily cost less than half as much to insure as a 1500cc model.
Take an extra driving qualification such as the 'Pass Plus' test. Specialist brokers will have schemes offering a discount of up to 25% for Pass Plus drivers, who are statistically much less likely to make a claim.
Join a car club. Some brokers will give discounts to club members. For example Flux offers anything up to 15%, on top of other discounts. "It's because being in a car club demonstrates a commitment to the car and to driving," explains Bucke.
Ask about a low-mileage policy. Young drivers can shave a significant amount off their policy - 10% or even more in some cases - if they are willing to restrict their mileage to, say, 5,000 per year.
Demonstrate extra security measures. Security features such as off-road parking and immobilisers can save a lot extra, even on a Third Party, Fire & Theft policy.
Speak to a human! 'Aggregator' or comparison website are fine for 'standard' drivers with 'standard' cars. But Flux estimates that at least 40% of younger or more inexperienced drivers, as well as those with unusual circumstances, will end up paying much more if their insurance is calculated entirely by the website.
These things won't eliminate the problem of uninsured drivers, admits Bucke, but he argues that they could make a significant dent in the problem. "The critical thing is to find insurance specialists who know the market - and phone around for the best deal," says Bucke. "It pays to talk."
For details contact the Adrian Flux quote line on 0800 081 8989, email the company at quotes (at) adrianflux (dot) co (dot) uk or see the Flux homepage on http://www.adrianflux.co.uk
PRESS ENQUIRIES:
Toni Turner or Alison Haynes at The Publicity Works
Tel: 01263 761000
Email: flux (at) publicityworks (dot) biz
Gerry Bucke of Adrian Flux Insurance Services: 0800 081 8989
###