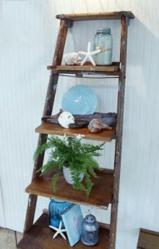 Those who want their bookshelves to do double duty – enhance the home decor as well as create some nice biblio-storage – need to look for something a little more creative than a simple rectangular box with adjustable shelves.
(PRWEB) October 08, 2012
HomeThangs.com – the Home Improvement Super Store has made their goal to deliver the right product to the consumer, with that in mind, shopping and home design tips, as well as special product selections are being introduced.
Bookshelves are among the most utilitarian pieces of furniture in the home. By and large, they're designed to do one thing, and one thing only: shelve books. But those who want their bookshelves to do double duty – enhance the home decor as well as create some nice biblio-storage – need to look for something a little more creative than a simple rectangular box with adjustable shelves. HomeThangs.com introduced a selection of unique bookshelves along with a tip sheet to help its customers find the one that can be a real statement piece.
1. Among the creative favorites at HomeThangs.com are asymmetrical bookshelves like the Reid Shelving Unit from EuroStyle. With different shelves in offset sizes, a finish that covers all the edges, and most importantly an extremely solid internal framing, one can use this unit either upright or on its side, arranged just about any direction. The various sized and shaped shelves are perfect for storing a variety of media no matter which way it's turned. The offset design makes it an excellent room divider as well, especially in the open space, to showcase a few favorite trinkets rather than lots of books. It offers a visual partition, but one that lets through a little light so the space does not look crowded or darkened.
2. Slightly off-shaped bookshelves are among the best ways to add visual style to the room. Whether packed with books or populated more scantly with books and other trinkets, bookshelves like the Robbie Shelving Unit by Eurostyle, act as a primer in white space, helping create a visually stunning look by just loading up the slightly offset shelves.
3. Something like the Barney shelves by Eurostyle, fare an excellent way to get a smooth, sleek modern finish that can be arranged in many different ways. At its heart this piece is "just a shelf," but the hidden hardware makes them look like they're floating. That gravity-feel look creates a unique visual appeal while maintaining a minimal style.
4. Sometimes, it's the shelves themselves that look cool. The futuristic Kira shelves from Nuevo are maybe a little less functional, but they also make an excellent room accent or divider, with the slanted chrome legs that create the illusion that the shelves are different sizes. Plus, keeping the space in between the closed shelves clear (rather than using it for storage), adds a nice dose of white space to the room that will help it look open and uncluttered.
5. Something Gunnar bookshelves from Uttermost suggests a slightly more flexible design. Available in three sizes, these can be arranged just about any way – as a freestanding table, a skinny shelf, a wall of shelves, or a series of steps. They're designed to fit together seamlessly to look like a single piece, no matter which sizes or how many of them are added on, but can also be completely standalone if for shelving in a smaller space.
6. The shelves themselves can make a design statement all by themselves. The slightly gravity-defying Vintage Library Ladderl eaning shelf from Sterling Industries has a pleasantly roughed up antique feel to it that's sure to add a little personality to the living space. But it's also a fully functional shelf, using the staggered sized shelves to help weight the "ladder" despite its slightly unsteady appearance. A perfect way to display a collection of old, loved books, or antiques.
7. The same goes for the Uttermost Shogun Etagere. An Asian take on an old French design, this piece is equally visually interesting in a traditional or modern space, making beautiful use of line and form for a sleek, polished shelving unit that's anything but ordinary. Again, it may not have quite the capacity of traditional bookshelves, but it most certainly has a lot more personality, and a lot more value as an accent piece.
8. Choosing bookshelves made out of unconventional materials can go a long way towards adding style to an often purely utilitarian piece. For example, the gorgeous V16 Shelving Unit by Nuevo is made entirely of reclaimed wood and reclaimed iron. Each piece has a unique texture, color, grain, and finish. While it's otherwise a fairly standard multipurpose shelving unit, the beautiful naturally aged wood makes it its own art piece – a perfect focal point rather than just a place to put books, and excellent for a loft in a repurposed building.
HomeThangs.com is not only a home improvement superstore, it also provides expert design tips and a comprehensive shopping guide, taking the ideas from professional interior designers, and offering tips to the consumers on how to pick the products to best suit their needs.