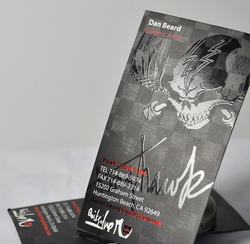 Stacy Morgison: I've been looking for inexpensive EPIC business cards. I'm pretty sure I found them :)
Henderson, NV (PRWEB) November 15, 2010
4ColorPrint.com is offering a 15% off special for all products on their website. The promotional code is 4CPNOVPRW. The offer is available through November 30, 2010.
4ColorPrint.com, a division of Designline Graphics in Henderson, NV, specializes in extremely custom printing. All products offered were designed specifically with the idea that: Printed marketing materials, especially business cards, are the first impression of any company. Marketing materials printed with 4ColorPrint utilizing custom features such as Foil, SpotUV, Die Cut, Embossing, and Layering will leave a lasting impression on customers. Imagine a cluttered desk with business cards strewn about. Which one will stand out? The cookie cutter black and white standard cards, or full color, custom sized, Die Cut, with a SpotUV accented logo? 4colorprint.com redefines excellence in print marketing.
4ColorPrint offers a myriad of different products. On top of that, all the products are 100% customizable, so the possibilities extend as far as one's imagination will allow. This article serves as a brief introduction into just some of the unique products offered. Free sample kits are also available on line and are mailed out daily.
High resolution images of the products are available on 4ColorPrint
Spot UV, Raised UV, and Dusted UV on Silkcards
Spot UV on Silkcards presents an eye catching contrast between the matte of Silk lamination and the sharpness of UV coating. For example, a full color business card can be printed using a vibrantly colored design with written company information, that area of the card will be laminated with Silk. Then, the area of the logo, which can be any shape, is coated with UV, hence, Spot UV. The contrast makes logos pop out of the card. For even more definition, Raised UV, essentially thicker, smoothed UV coating, adds another dimension to a design. Dusted UV is also a newly available feature. Dusted UV is UV lamination in which different shades of glitter can be added to the coating. These effects, used creatively, can empower the most creative graphic designers to create brilliant, eye-catching marketing tools.
Silkcards-X: Another Dimension of Business Card
It was difficult to come up with a name for Silkcards-X. What is it? Silkcards-X is a layered business card which is actually two 16pt cards bonded together using a custom, in-house technique. The top layer is Die Cut, to any custom specifications, revealing the bottom printed layer. This technique can be used to create insane business card designs. The top layer can also be perforated with pull tabs so that recipients of the cards can pull back the perforated region revealing the design below. These words truly do no justice to the excellence of Silkcards-X. Many high resolution design examples are available on the 4ColorPrint gallery to help illustrate the uniqueness of this product. All of the products offered are customizable, so it is possible to combine SpotUV, Foil, and other finishing options with Silkcards-X or other products.
Plastic Business Cards
Plastic business cards add another degree of leverage to make the business cards stand out above the rest. There are two types of PVC stock offered: 12Mil and 30Mil. 30Mil is the same thickness as a standard credit card. 12Mil is thinner and has a very unique feel. The 30Mil stock is also available in Clear, Frosted, Gold or Silver Perlescent, Silk Laminated, and can be combined with SpotUV, Foil, and all other product options. Options available only on plastic cards include: Signature Panels, Magnetic Stripes, Magnetic Stripe Encoding, Embossed Numbering (like a credit card), and Barcoding. Plastic business cards can also be cut into custom shapes and sizes. Again, words do not do these products justice. Plastic card design samples are also available on the on line design gallery. 4ColorPrint offers very competitive prices on plastic business cards with 500, 12mil plastic cards starting at $95.00 and 500, 30mil plastic cards for $139.00.
These products are just a small sub-set of the total offering of 4ColorPrint. The full offering of products is available at 4colorprint.com. All products are 100% customizable, and the prices are very competitive in the custom print industry.
The promotional code: 4CPNOVPRW can be used in the month of November, 2010 to receive 15% off an order.