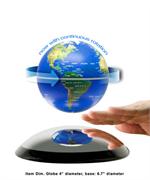 (PRWEB) April 26, 2012
World To Home is pleased to announce the finished renovations of its site WorldToHome.com. With the addition of so many new unique home decor accessories, some much needed beautification and better organization was in order. Brand new categories have been added to make browsing easier than ever before. All of your favorite products and categories are still there, and finding them is now a snap. Now eleven categories hold our impressive collection with thousands of luxury and unique home decor accessories, furniture and accents. World To Home has also added special boxes on their homepage that highlight special holidays and seasonal events to give you great home decor or gift-giving ideas. Currently featured are hot spring and summer items, including animal figurine fans, architectural bird house mansions, wooden picnic baskets and floral arrangements. Also featured is gifts for Mother's Day and World To Home's most popular products, such as Mova Globe, lighted branches, reproduction antique phones, and metal wine bottle holders. To kick off the updated site, World To Home has added even more unique home decor products and gadgets that are sure to catch your attention.
The Levitron floating levitating globe has caught the gadget world by storm, and World To Home aims to be your number one supplier in addition to the already popular Mova Globe. These amazing magnetic floating globes use miraculous magnetic and electronic technology to hold the fashionable globes aloft. The globes also spin upon their floating bases, imitating the rotation of the earth itself. There are many designs available, from the classic globe design to the chic city lights design, which displays the earth at night with all of the major cities around the world illuminated. Another popular design is the constellations Levitron, which depicts a spherical night sky with many of the Milky Way galaxy's constellations illuminated. By simply plugging your Levitron into an outlet, your globe will spin effortlessly, indefinitely.
Accompanying the amazing Levitron levitating globe is the astonishing Levitron levitating lamp. This lamp uses even more advanced technology to keep the lamp shade suspended in the air. You're sure to amaze your house guests with this miracle of technology. Six powerful white LEDs provide cool accent lighting even as the shade hovers three centimeters off the base. This is sure to be the most revolutionary home accent you'll see this year, so don't hesitate to check them out.
Lighted branches remain to be one of World To Home's best-selling products, and the addition of new finely made home decor vases specifically for these branch light beauties is sure to cause quite a stir. Made of varying materials from finely cast metals to hand-made ceramics, these exquisite vases are sure to give your lighted branches that extra hint of extravagance. Each vase is decorated with beautiful designs, from the rich Amber Glow collection to the more modern metal and glass arrangements. These vases are popular with World To Home's hand made pussy willow lighted branches twig lights, but can also be used with their artificial botanical florals or with any flowers.
About World To Home.com:
WorldToHome.com is the premier retailer of fine luxury home decor accents, accessories and furniture. With thousands of unique home decor accessories, World To Home brings the worlds home decor products to your doorstep. Featured products include solar rotating Mova Globe, lighted branches, reproduction antique phones for sale, metal wine bottle wine caddies, birdhouse mansions, and more.