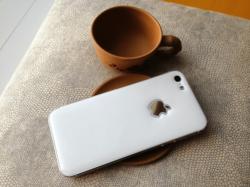 For anti-slip protection and minimalistic design, check out Slip Stopper for the iPhone 5. This is a slick product with a texture you'll want to touch.
Seattle, Washington (PRWEB) January 23, 2013
PC Magazine declares Slip Stopper iPhone 5 gel case as the #1 choice in its 2013 Best iPhone 5 Cases roundup. Slip Stopper is a unique iPhone 5 case that offers anti-slip protection and minimalistic design at http://www.slipstopper.com
PC Magazine ranks Slip Stopper #1 out of more than 30 competitors in the latest Best iPhone 5 Cases roundup. Slip Stopper is not a traditional case, but a raised gel skin decal for the iPhone 5. The skin applies easily, stays in place, and adds an easy-to-grip surface to the iPhone without changing its profile. Slip Stopper is for users who want to avoid bulky cases in favor of minimalistic design and anti-slip protection.
"It's a nice solution if you don't want to add the bulk of a full case, but want protection for the iPhone's most vulnerable surfaces including the screen." –Wendy Sheehan Donnell, PC Magazine.
Initially launched on KickStarter, Slip Stopper adds grip to the slippery iPhone back without bulk. Users can have a peace of mind and no longer worry about the iPhone gliding out of the hands or slipping off the desk or the car's dashboard. The unique gel resin adds grip but does not stick in the user's pocket. It's also dustproof, scratch resistant, and shock absorbent. The patented 3M adhesive technology leaves absolutely no residue and is reusable. Slip Stopper is the ideal choice for users looking for unique iPhone 5 cases.
Slip Stopper retails for $19.99 and is available in a variety of colors including black, white, and gray at http://www.slipstopper.com
-About the Company-
Slip Stopper Pte. Ltd. is a design-centric and fast-growing organization providing minimalistic and non-intrusive protection for mobile devices, including the iPhone, iPad, and various Android devices.