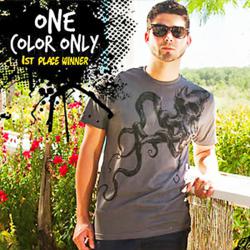 Top 3 Winners from over 350 Entries for the One Color Design contest.
San Francisco, Ca (PRWEB) May 22, 2013
Three designer t-shirts received the top prizes from Design By Humans one color design contest. The top three winners were selected for the most votes, comments, best compositions, details and ideas. The winner was given $1500, and printed to the one-color special contest winners category. Here is the lineup of the best one color shirts.
The third place winner goes to "Inked Cat" designed by Moncheng. The details in the face give you and up close look at this dark cats bright eyes and dripping tears. The black and white cat stares on the prowl.
The second place winner goes to "Choose your Flowers Carefully." The design is a bouquet of roses and skulls in this special all-over print. The skulls are blossoming out along side roses with bees pollinating them. Which is better, a flower bouquet of roses or skulls?
The grand prize winner goes to Skulltpus by Shawn Cross of Ohio. The human skull replaces the octopuses head in this all over print. This is the first place winner for most votes, best drawing and cool concept. The result was a simple yet beautiful designed concept.
The one color design contest was a new challenge for the Design By Humans artists. Often in t-shirt design, companies want to use less color to keep down printing costs. The one-color design forces you to break everything down to one simple design, yet still be exciting. The challenge with one color design is using other aesthetic values to make the shirt eye catching. The one color t-shirt contest produced over 350 design submissions from all around the world. The entries used creative positive and negative space, texture, and detail. Whether the design was based on creative ideas, drawing talents, or unique themes, the one color can be a true challenge. The winners were the most detailed, thought out and crafted shirts. The announcement for the winning shirts will start May 20th, with the grand prize winner announced May 22nd.
Design By Humans hosts special and daily t-shirt design contests. Winners from all ages, talent levels and locations sent in t-shirt designs to compete for the grand prize. There are now over 1500 cool t-shirts available for purchase on DesignByHumans.com