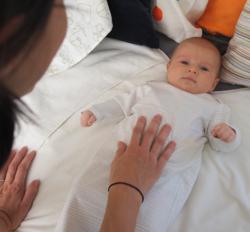 The apparel and accessories collection offers designs with easy on/off functionality and artwork that encourages connections between parent and child.
Valley Cottage, NY (PRWEB) June 03, 2013
Lazaroff started from scratch, eliminating difficult closures, adding features that reduce stress for both baby and mom, and including additional functionality to make styles more versatile. Lazaroff put an equal emphasis on fashion, developing heartfelt illustrations to help caregivers cherish those challenging, busy and special first days. Plush attendees can shop belle&beanzer's Spring/Summer and Fall/Winter styles, and the company is offering a special gift for anyone who stops by: a lullaby and play-time playlist.
"I know from my own experience that with everything we have to accomplish in a day, sometimes parents become too focused on the task and not the child. With belle&beanzer, I want to remind moms and dads that dressing your child is an intimate and nurturing time of connection," says Lazaroff, who in addition to being an accomplished children's wear designer for labels like OshKosh, The Children's Place and Kmart, is also a mom of two. "With my easy on/off designs and sweet artwork, I want to inspire parents to find the meaning and joy in every diaper change, every feeding and every morning and nighttime ritual because it all goes by so fast!"
Peruvian pima cotton makes belle&beanzer super soft, and the absence of snaps, buttons, zippers and Velcro make this unique baby clothing line mom friendly. The romper features an elastic peek-a-boo entry that opens across the back and stretches wide, allowing for quick, easy changes whether baby is lying on the changing table or sitting on mom's lap. The brand's Roo gown has the same back opening for ease of dressing and to keep tiny toes covered and warm. Thanks to their shape and a few strategically placed snaps, the company's burp cloths transform into full-coverage bibs. The Big Love blanket, which takes its name from its heart shape, is the ultimate multi-tasker. The blanket features arm pockets that serve a variety of purposes: First, they allow parents to secure baby's arms when swaddling. Second, when used as a nursing cover, mom can use the arm pockets to secure the blanket around herself and support the baby's head.
The Spring/Summer themes include a love garden, a heart with the message "get.in.here," an elephant mom and baby embrace, and the line's signature hummingbird. The color palette features Ballerina Belle pink, Beanzer blue and Microchip gray. Fall/Holiday features a cuddly bear with the message "hugs" and birds chirping "XO XO" with additional hues like Ski Patrol red, Jellybean green, poppy pink Cabaret, vivid Ultramarine and Apple Green. All illustrations have a hand drawn feel for a personal touch. Solid styles intermix with star prints and the line's hand-drawn stripes.
belle&beanzer uses water-based inks, flat seams and heat transfers instead of tags, so everything is as safe and comfortable as possible. The sizes span 0 to 24 months. Retail prices range from $16 to $63. For stores, belle&beanzer is offering bundles, or prepack assortments, which represent a volume discount.