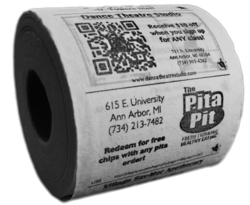 Ann Arbor, MI (PRWEB) May 30, 2013
Ann Arbor based Cavern Clubs, one of the largest clubs in Michigan, has partnered with Star Toilet Paper of New York to present its patrons with beer discounts redeemable via toilet paper.
Located in a historic, century-old grain mill, the unique advertising that Cavern Clubs is implementing is anything but ancient. By utilizing QR codes that offer beer discounts upon being scanned by a smart phone, the advertising strategy has caused a noticeable effect on consumer behavior.
Since the ad campaign began, Cavern Clubs has been seeing at least twelve redemptions per week, a level of activity which represents an impressive redemption rate of .4%. As clients continue to become familiar with QR code technology and the benefits it provides, that number is expected to continue to grow.
While some in the marketing industry have poo poo'ed the effectiveness of QR codes, Star Toilet Paper has demonstrated, in this and similar implementations of the technology, that, if used properly, it can be an effective strategy for engaging customers and driving specific business goals.
Started by a couple of college students named Jordan and Bryan Silverman, Star Toilet Paper is quickly becoming a leader in the field of unique advertising. By utilizing toilet paper as medium for advertising the brothers have created an exciting new option for small businesses that is succeeding at what most other forms of traditional advertising have failed to do; namely, getting noticed.