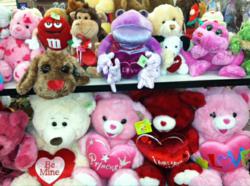 One doesn't have to spend a fortune to make someone else feel like a million bucks ~Thrift Town Marketing Divas
Roseville, CA (PRWEB) February 13, 2012
Valentine's Day is Tuesday, and it's predicted that the average consumer celebrating the holiday this year will spend close to $130.00. So much for the saying "love don't cost a thing!"
Well, if the traditional (and expensive) Valentine's Day gift standbys of flowers and generic boxes of chocolate are getting old, here's some good news my thrifty valentine. Thrift Town has some unique and inexpensive ways to spread the love, and keep money in the bank. The below ideas range in price from around $10 to under $1, proving one doesn't have to spend a fortune to make someone else feel like a million bucks.

Vintage jewelry. Peruse thrift store jewelry cases for unique and beautiful pieces that anyone would love.
Showcase a precious child's, or collection of family handprints with a thrifted frame
Cuddly stuffed animals proclaiming their undying love…that don't cost $24.99! Thrift stores have them for around $2 each.
Unique jars can hold lots of lovely things such as; romantic coupons, cookies, or as seen in the accompanying photo, a handmade snow globe. Most jars cost under $1 at Thrift Town.
Create adorable Valentine cards like "I wheelie like you," or "don't ever change," and embellish with a hot wheels car, or collectible coins. Both of which can be found in thrift shops.
Treat that special someone to breakfast in bed. Thrift stores are full of unique trays and mugs for pennies on the dollar.
For those crafty cupids out there, try creating hearts out of thrifted books, or making heart hair clips out of thrifted fabric, both of which can be done for about a buck.
Make a homemade floral arrangement and place it in a thrifted vase for around $2.
For more inspiration, please check out Thrift Town's blog and Thrifty Valentine Pinterest board. Feel free to pin and repin. We do!
Thrift Town has 15 stores locations in four different states, and debuts its online store featuring Thrift Town branded apparel and accessories on Valentine's Day. Thrift Town lives it's vision statement of being committed to making a difference every day, and has raised over $250,000,000 for their charity partners, and keeps more than 16 million pounds of products out of local area landfills annually. Thrift Town's clean, bright, and organized stores put out 4,000 new products daily, setting them apart in the thrift world as the premier thrift destination. Thrift Town is owned and operated by Norquist Salvage Corporation, which has spend nearly four decades dedicated to socially responsible recycling.
###