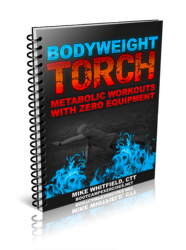 Atlanta, GA (PRWEB) June 05, 2013
Mike Whitfield, a trainer in Atlanta, GA who has lost 105 pounds, really enjoys showing unique bodyweight exercises to his readers and clients. When he discovered the unique full body bodyweight exercise called the "Kong", he immediately wanted to share it with his readers on video.
"The Kong exercise is a great full body bodyweight exercise that works the abs as well. I discovered this unique bodyweight exercise through a program from my friend Adam Steer. I fell in love with it immediately and used it with both my online and offline clients. The Kong exercise is also a great way to improve anyone's conditioning without any equipment. This total body exercise is certainly challenging and takes coordination. That's why I wanted to do a demonstration of it on video for our readers. When there are a variety of bodyweight conditioning exercises that aren't boring inside a program, people will stick to the program longer. This means better results will come through consistency. The feedback on our videos has been really positive, especially when we release unique bodyweight exercises such as the Kong exercise. My clients really enjoy the challenge of using so many muscles at one time. They also love that they can incorporate these unique bodyweight exercises in the comfort of their own home without having to invest in expensive equipment like treadmills or ellipticals. We plan on introducing more unique bodyweight exercises on our YouTube channel and we look forward to helping people have fun with their bodyweight exercise routines", said Mike Whitfield, the creator behind Bodyweight Torch. Bodyweight Torch is a 4-week bodyweight exercise program that uses zero equipment.
Anyone can download the free bodyweight training program at http://www.bodyweighttorch.com.