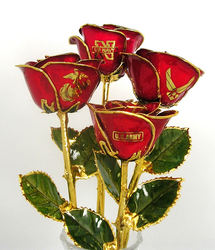 And we are offering free shipping to APO/FPO addresses
Winfield, IL (PRWEB) January 29, 2009
"The Armed Forces Rose," a new, custom gift product launched at http://www.loveisarose.com, pays tribute to our men and women in the US Army, Air Force, Navy, and Marines. The armed force emblem of choice is embellished on the delicate flower petal of these real, preserved roses which are trimmed in platinum or 24kt gold. These personalized, hand-imprinted roses make heartfelt gifts for loved ones supporting our troops.
Available in an array of colors, these distinctive blooms have been carefully selected, sized, and then preserved at the peak of their beauty. They arrive embraced in folds of silken fabric in a special remembrance gift box when ordered with the optional imported, cut crystal vase. "We are the only company in the world to imprint these roses," stated Sid Fey, CEO of Sid Fey Designs, Inc., home of http://www.loveisarose.com. "And we are offering free shipping to APO/FPO addresses," added Fey.
The legend of the delicate rose has been for centuries an expression of love, a symbol of happiness, unity, and joy. This bloom is one of the most cherished of all flowers as its language speaks from the heart and soul. Gold and platinum are precious metals of the earth. These timeless symbols of richness, beauty, and love have been wonderfully combined in these roses.
Sid Fey Designs, Inc., showcases unique gift products that celebrate relationship, love, and family and are marketed throughout the world. Sid Fey is a creative product developer, author, and has been a successful entrepreneur in both the retail and manufacturing sector for over 40 years.
Contact:
Sid Fey
630-668-6607
http://www.loveisarose.com
###