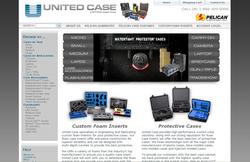 Kissimmee, FL (PRWEB) October 1, 2008
United Case™, a UFP Technologies brand, today announced the launch of a new website selling Pelican™ Products' complete line of protective cases, case accessories and flashlights.
The new United Case online store, http://www.unitedcase-pelican.com , provides a convenient online shopping source for all of Pelican's Products. Each protective case product page includes detailed information providing complete case specifications including interior and exterior case dimensions, weight, color options, case certifications along with high quality photographs. Each protective case has been classified by size: micro, small, medium and large; as well as by application: camera, briefcase, laptop, carry-on, iPod®, gun / rifle and trade show, to provide simple navigation for the user.
United Case's online store will also offer Pelican case accessories and flashlights. The case accessories range from foam replacement pads to padded divider sets designed to provide interior case protection. Pelican's specialty flashlights available through United Case include lights small enough to wear on a headband to large waterproof lights suitable for scuba diving.
In addition to selling Pelican Products, United Case offers engineering services for custom foam case inserts. Fabricated case inserts provide the best interior protection for the items housed inside of a case. United Case has the knowledge, capabilities and access to materials to fabricate a best-in-class foam insert for any protective case. Detailed information regarding custom foam insert solutions and materials can be found on each protective case product page.
About United Case
United Case, a UFP Technologies brand, is a full service provider of protective cases and custom engineered foam inserts. In partnership with United Foam, the flagship brand of UFP Technologies, United Case offers a large selection of foams, multiple fabrication capabilities, eight North American locations and the protective packaging design knowledge and experience required to design the best case and foam insert solutions.
For more information on United Case's products and capabilities, call (888) 409-0090 visit http://www.unitedcase.com , http://www.unitedcase-pelican.com , or email sales@unitedcase.com.
About Pelican Products, Inc.
Pelican™ Products, Inc. is a global leader in the design and manufacture of advanced lighting systems and virtually indestructible cases with distribution centers in Barcelona, Spain - Edmonton, Canada - Tokyo, Japan - China, and Adelaide, Australia. The company was acquired in 2005 by venture capital firm Behrman Capital.
###