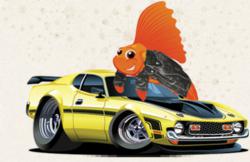 I suppose only time will tell if this tactic will be advantageous.
New York, NY (PRWEB) March 25, 2012
RoadFish.com men's lifestyle and finance magazine today discussed the ups and downs of Great Britain's newly imposed increase on property tax. RoadFish.com understands the goal behind the decision, but wonders if the increase will serve to deter prospective luxury-home purchases and work in the opposite favor.
According to Chris Spillane of Bloomberg Business Week, the United Kingdom's Chancellor of the Exchequer, George Osborne, recently decided to require an increase in the taxing of home purchases within Great Britain that total $3.2 million (2 million pounds) and above, from 5% to 7%. Spillane suggests that this 2% Stamp Duty Land tax increase may damper the purchases of luxurious abodes in the top London neighborhoods.
For folks looking to buy and sell property within the U.K., regular government taxes will continue to be charged on homes less than $3.2 million. Naturally there are neighborhoods that fall within every price range. On the higher end, properties located within the Royal Borough of Kensington and Chelsea has an average asking price of around $3 million. Purchases made in less luxurious neighborhoods and on less expensive houses will not see any additional increase. Estate agents are available to guide potential homeowners or home sellers within the current U.K. real estate market.
Business Week goes on to report that in addition to the higher tax, which became enforced on March 22nd, the government will also charge a 15% tax on all properties worth over $3.2 million being purchased by a business or company looking for a loophole through the tax system. Property economist at Capital Economics in London, Paul Diggle, is quoted in Business Week's article as saying, "There's the potential that it will skew the market more toward those wealthy overseas purchasers. There's a large share of people who are homegrown, well-off residents who this will affect more."
RoadFish.com's Senior staff writer is quoted as saying, "On the one hand, the Chancellor will definitely pull in some more taxes from the wealthy. No doubt about it. And of course the folks who are well off are in a much better position to be hit with a tax increase than the middle or lower classes. However, I do wonder whether this inflated tax on luxury home purchases will sway would-be buyers from actually buying down, to avoid the 2% increase. I suppose only time will tell if this tactic will be advantageous."
James Chapman, Becky Barrow, and Rob Cooper of the Daily Mail UK referred to the heightened tax as a "tax grab on the wealthy," and further reported that Osborne stated that the clampdown will help raise "five times more." The Daily Mail article quoted Chancellor Osborne as saying, "It is fair when money is tight, and so many families could do with help, that those buying the most expensive homes contribute more." The article reports that in November, 121 homes were bought for more than $3.2 million, and 98 were in London.
The above-mentioned Business Week article reported that according the Land Registry, approximately 1,620 properties worth over $3.2 million were sold last year in England and Wales combined. Business Week states that a report issued by independent global residential and commercial property consulting firm, Knight Frank LLP, revealed that luxury-home prices in central London reached new heights in March 2011. Knight Frank LLP claims that the boost was a result of wealthy overseas buyers seeking safety by investing in property in "one of the world's most resilient property markets."
About RoadFish.com
RoadFish.com is an online men's lifestyle and finance magazine targeted toward men in their 30's and 40's that have already attained a moderate level of success in life, and are striving toward more. It goes over current events of interest to this group, such things as exciting adventures, making money, consumer interests, hot chicks, and traveling abroad, as well as ways to make more and save more money. It is a publication owned by Purpose Inc.
###